CHOOSING THE RIGHT WORK VAN FOR YOU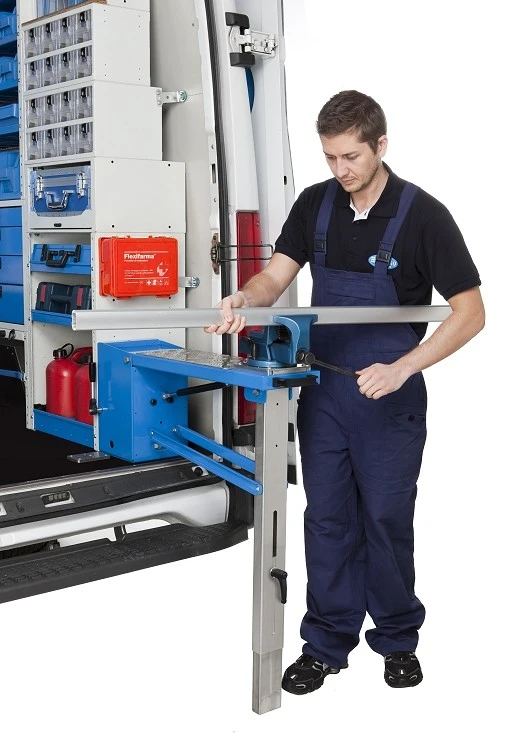 1) How much cargo space will I need? It is important to keep in mind exactly how the vehicle will be used. To, choose the right make and model, pay careful attention paid to the length and height of the cargo area. For some of the small to medium vehicles like the Connect and the Berlingo, the longer wheel base creates a significant difference in the cargo area space. If you will need to work inside the van, possibly installing a workbench, it is important to make sure there is enough ceiling room. Most large vans have an interior height of approximately 180 cm, which is sufficient for many people, but not for everyone.
2) Don't underestimate the weight capacity of the vehicle. Vehicle manufactures tend to overstate weight capacities. Upfit systems, and particularly the system Syncro, have made great strides to reduce the weight of their components by using high-tech, light weight materials. To calculate the total weight of the upfit, it is essential to consider not only the upfitted package but all of the work equipment, tools, spare parts, etc. The fully outfitted modules will weigh about 3 or 4 times more than the components themselves. For example, a shelving and drawer component that weighs 200 kg, can weigh up to 1,000 kilos when fully stocked. Therefore, it is advisable to opt for vehicles that have higher cargo weight capacities. The cost of purchasing a larger commercial van with more cargo space and greater weight capacity does not increase significantly, but the safety benefits increase dramatically.
INTERNAL UPFIT OF YOUR COMMERCIAL VAN
3) The van floor: starting with a so base. Think for a moment about the importance the walls, floor and ceiling of the cargo area of the van. In particular, the cargo area floor is never completely flat and constantly bears the pressure of all of the weight loaded in the cargo space. In the last years, due to the van manufactures reduction of the metal sheet floorboards, it has become imperative to install a special wood floor made of reinforced plywood or aluminum. This installed floor both protects the van and creates a solid foundation on which to install any upfit package.
4) Protect the walls. Commercial vans come off the assembly line with minimal protection for the internal body, if any at all, making it very easy to damage the walls. The interior damage, overtime, can cause damage, and eventually result in rust to the body of the vehicle; aside from being unsightly, can lead to serious damage. The Syncro System wall panels and wheel well covers, glass barriers and cab/cargo partitions complete our line of protection accessories - all ready for immediate installation.
5) Choosing shelves and drawers. Now that you've finished protecting your van's interior, it's time to think about the best way to upfit it is: what combination of shelves, drawer units and other modules will work best for you and your van. It's worth considering what, if any, bulky equipment and tools you use for your work. For example, do you need to transport a compressor, generator, welding apparatus, etc.? Keep in mind that much of this equipment takes up considerable space, and many need strong electrical currents to start up.
6) Carrying Cases for small parts. Once you have determined the type and size of the bulkier equipment and tools you need transport, the next step is figuring out exactly what materials you will need to load in the van; which ones you'll bring with you to the work site and which ones will stay put in the van. If, for example, you have many small parts that you need to bring with you on site, you might consider choosing components that have small cases with divided compartments. If, however, most of the small parts that you need remain in the van, a fixed module drawer unit with sliding drawers and bins available in different sizes will better fit your needs.
7)Place for storing and securing power tool carrying cases. Many electricians, plumbers and skilled craftsmen, etc., use various kinds of power tools, which now almost always come with their own carrying cases. Therefore, a practical solution for most upfits is to designate a space for the 'secure case module'.
8) Shelves and drawers with dividers. Spare parts can be stored in drawers or the 'see it' Syncro shelving system. These module kits can be quickly expanded with easily movable dividers, allowing for safe and orderly storage and retrieval of objects.
9) Removable/portable containers and bins. Removable oil-resistant polypropylene containers and bins. Bring them with you on site or find what you're looking for while they stay in place and locked in position in the van.
10) Extra-long equipment and supplies. For pipes and other long materials you might need, these expandable sections called 'gutters' (installed just under the ceiling), provide useful space-saving storage.
11) Time-saving transparent drawers. For those who need to quickly see the small to medium parts and components, the drawer module with see-through drawers is the perfect solution. Because of its small size, it is also easy to position where ever it is most accessible.
12) Accessories Accessories Accessories. Syncro System offers countless accessories that serve a wide range of practical needs. For instance, by adding a sturdy bench clamp to the shelving modules, in a few seconds you have the ideal tool for cutting, welding or threading. Other very popular accessories include our hand-washing kit (convenient water, soap and paper towels wherever you are), systems to safely transport computers and printers, canisters and tanks, as well as racks to store cables and extension cords.
13) Don't overlook lighting. Adequate cargo space lighting is very important for finding and getting the materials you need. To augment the minimal lighting that comes standard on most vans, our light fixture with built-in-converter allows use of 220 Volt florescent light tubes which draw power from the vehicle's 12 Volt battery. For exterior lighting needs, there are flood lights and orange revolving warning lights signaling 'work in progress'.
14) Securing materials during transport. Don't forget that the rules of the road require the safe transport of all materials, equipment, supplies, etc. loaded on your van. It is exactly for that reason, Syncro System includes a variety of tie-downs in its vast array of products.
15) Roof-loading your vehicle. To be able to safely load materials and supplies on the roof, Syncro offers a range of options: roof racks, utility racks with lateral bars and rear rolling loader, lowering ladder racks or cushioned racks and stainless steel tube carriers. The Syncro System rack system is completely modular, making it easy to find the right custom solution.
16) Loading ramps and platforms. To load trolleys, heavy machinery with wheels or motorcycles, Syncro System has a variety of removable and fixed ramp systems – supporting a maximum weight of 1,500 kg. You can also find ways to secure motorcycles and ways to anchor equipment to the body of the vehicle.
AFTER THE UPLIFT. WHAT COMES NEXT?
17) Safety guarantee.Each Syncro System product is covered by a 3 year guarantee against manufacturing defects. Safety is a primary concern for Syncro, that has undergone and passed strict testing to be conferred the GS Certification (Geprüfte Sicherheit, which literally means "Tested Safety"); the Syncro Group has also been awarded ISO 9001:2008 in 2012.
18) Reusing upfitted systems. Because sooner or later, your old van will be replaced by a newer one, let's not forget that the Syncro System is 100% modular so it is possible to take it all apart and reassemble it in the new van, adding updated pieces and accessories if necessary. Though form and function may change over time, all pieces keep their same external measurements, so new components will fit older systems and vice-versa.
19) Making a lasting investment. Upfitting your van as an investment. The cost of the original upfit will be generously repaid in terms of time saved every day. The high quality and durability of the components allows you to earn back your investment in a short time while reaping its benefits for years to come.
20) Trust the experts. The Syncro System specialists have the kind of technical experience that comes from 60,000 vans upfits in 20 years of business, with clients in all types of businesses all over Europe. They are ready to give you all the information and advice you need to find the best possible solution to fit your individual business requirements.