COURIER: THE NEW- LITTLE ON THE OUTSIDE BUT BIG ON THE INSIDE -VAN FROM FORD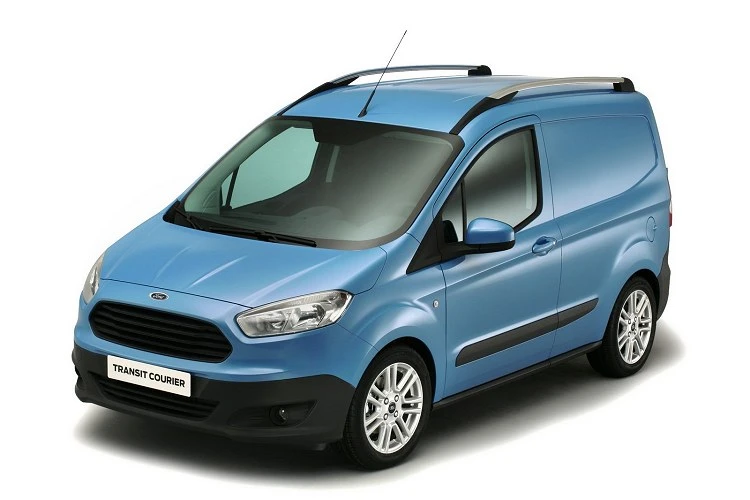 The Ford Courier is a small van that sports all the advantages of a small car connected to the body of a real van. It offers a low, completely flat loading floor, double rear doors and optional side door. It is an ideal choice for those who need a maneuverable, agile city van. But, don't let its reduced size fool you, it has a surprising large load space for transporting material or even transforming it into a mini workshop on wheels.
Together with the Custom, Transit and Connect, the Courier completes a range of vans that are competitive on every level, and they have been a winning card for Ford's recent re-launch in the global van market.
FLOOR AND WALL PANELING FOR THE 2014 COURIER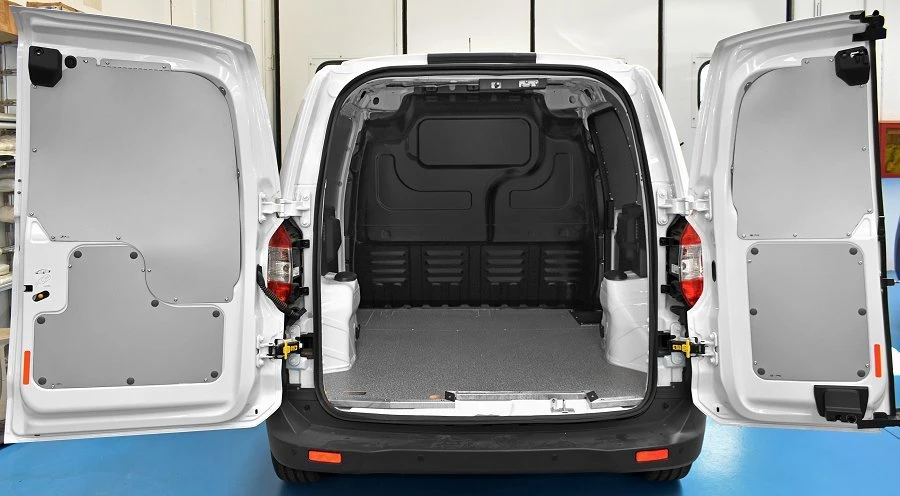 The Syncro group sprung into action to provide its clients the entire gamut of conversion equipment for the Courier. Now Courier owners have everything they need to transform their Courier to fit their exact working needs.

As is the case with all commercial vans, the Courier comes without adequate interior protection, leaving original van floor and walls susceptible to damage that comes from normal daily wear and tear. For this reason, Syncro offers an extensive line of interior protective paneling: floor and bulkhead panels in marine plywood or chequered-plate aluminum, wall panels in galvanized steel, aluminum or plastic, and wheel arch covers in plywood or aluminum.
SOLUTIONS FOR CONVERTING THE 2014 FORD COURIER CARGO SPACE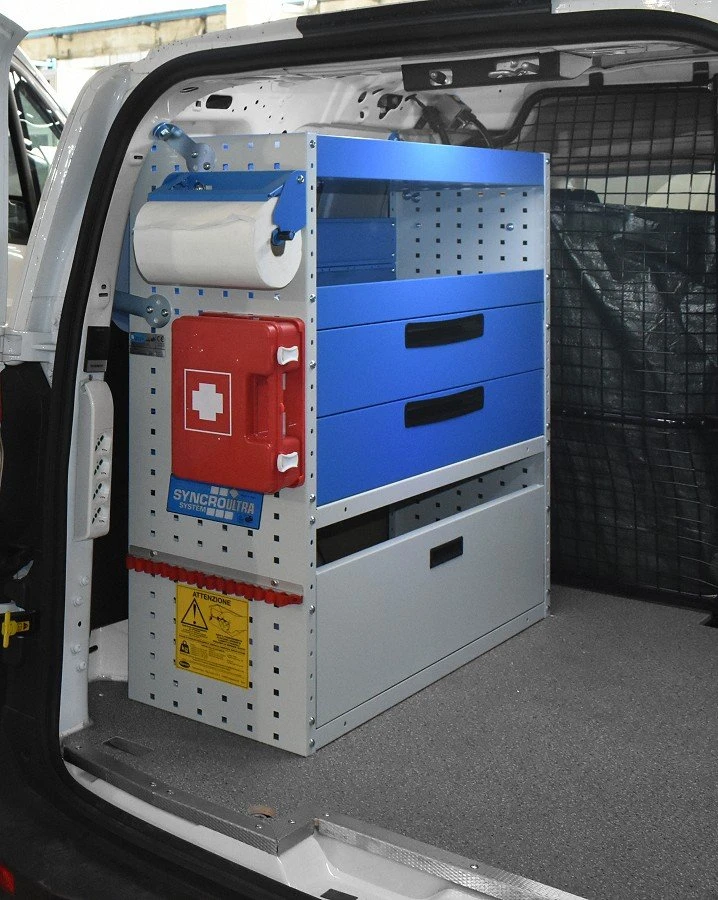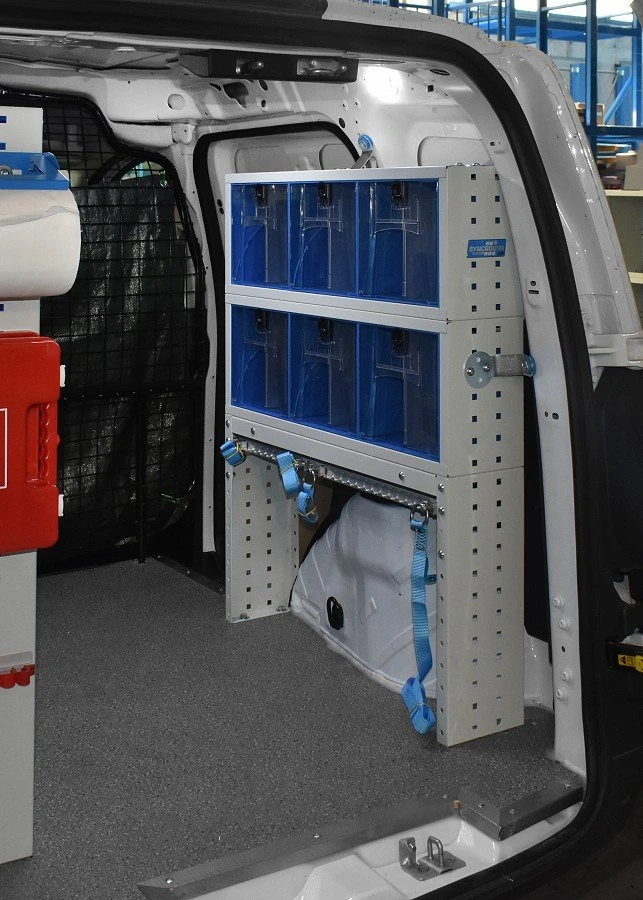 To equip the Courier cargo, Syncro System includes a vast choice of shelving and drawer units, removable/portable containers, utility cases, lockers and many other components that make up the Syncro modular system. The modularity makes it easy to custom design any conversion, using every bit of space, even for creating mini mobile workshops that are durable, practical and efficient.
Let's not forget the endless accessories for everything from blocking cargo, to cleaning, lighting, ventilation, and everything else you need to create your perfect workshop on wheels!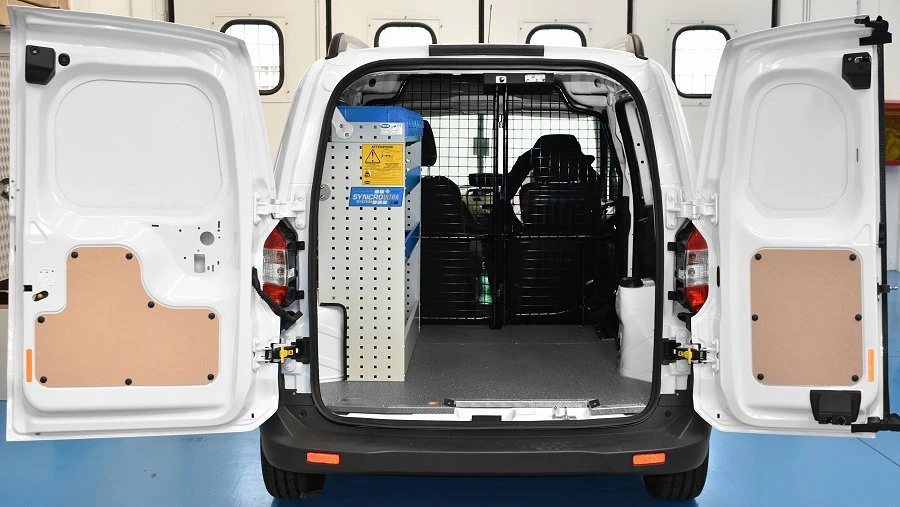 COURIER ROOF RACKS, ROOF-TOP SYSTEMS AND UTILITY BARS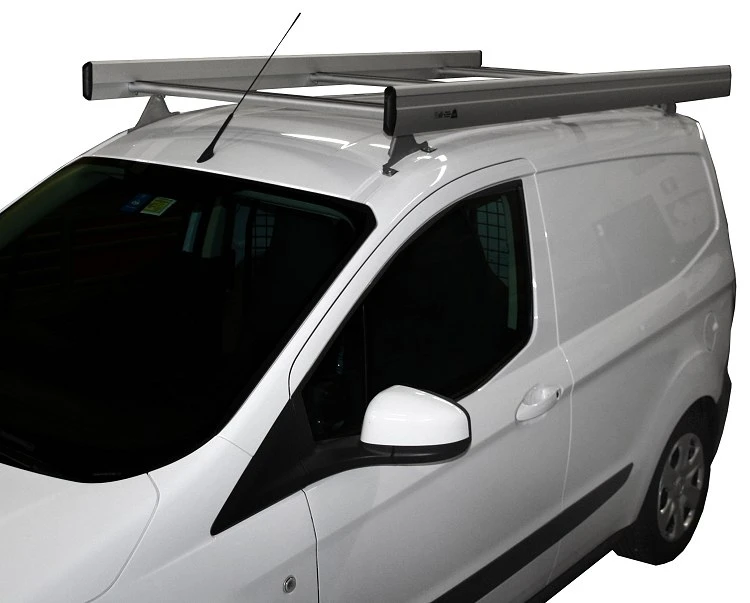 Syncro also offers a complete range of roof-top equipment to take advantage of the space on top of your van. There are utility bars, roof rack kits including side rails and rolling back bar for easy loading of heavy ladders. All components are made of stainless steel and aluminum and are have the exclusive ULTRASILENT design that drastically cuts down on noise and vibration.