The new Talento is replacing the Scudo in the Fiat Professional range of light commercials. In terms of design and dimensions, the new Talento is very similar to the latest Renault Trafic, and assumes a place between the Ducato and the Doblò Cargo in the Fiat range. Fiat has actually named its new model after a version of the Ducato produced a number of years back, which had characteristics similar to those of the 2016 Talento. The Talento has introduced new lengths and new load capacities to the Fiat range, increasing the choice available to customers.
All Syncro van racking components are either made to measure or modular and easy to combine. They are therefore guaranteed to match the shape and size of all load compartments. As a result, Syncro installation technicians are always able to satisfy the needs of customers, irrespective of what make and model of van they own.
Customised linings for the Fiat Talento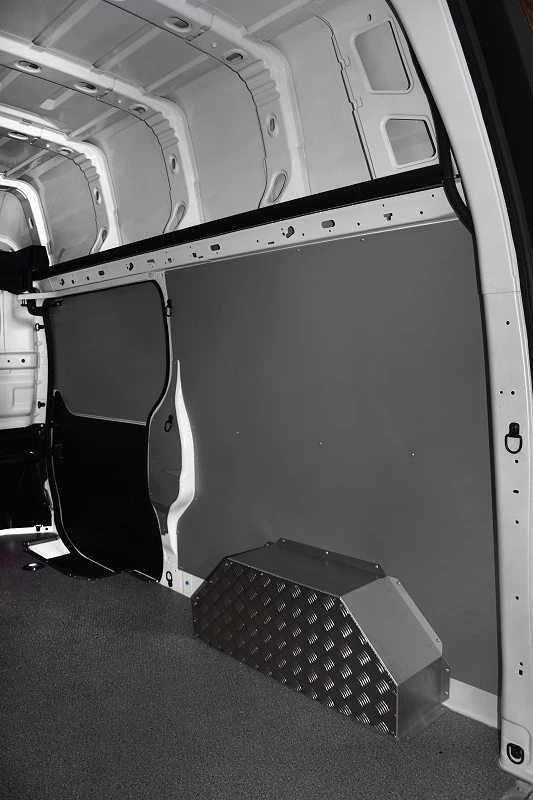 The first thing that Syncro technicians do when any new van comes into the workshop is install adequate protection for the interior of the load compartment. This ensures that the vehicle stays looking good for years to come, and maintains it value and functionality.
The floor of the 2016 Fiat Talento illustrated in these photos is covered by panels of resinated plywood, cut to size at Syncro's factory in di San Zeno di Cassola, Italy. The finished surface is further protected by non-slip metal edging at the doors. Thanks to the tough material from which they are made, Syncro floors not only withstand human traffic but also resist humidity and chemical spills.
The bulkhead is lined with the same material, which is easily strong enough to support a rail and strap cargo lashing system.
Floors can also be covered in aluminium tread plate, an alternative that is just as functional but looks completely different.
In this case the customer preferred to line the walls and doors in pre-painted, galvanised panels. Honeycomb plastic and steel panels are also available for this purpose.
A Fiat Talento fitted out as a mobile workshop by Syncro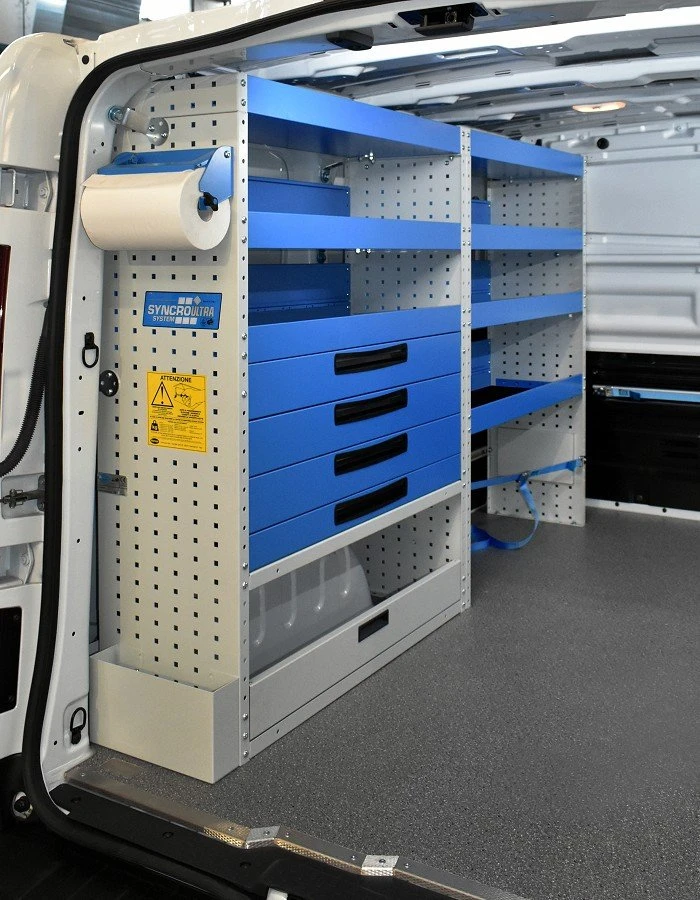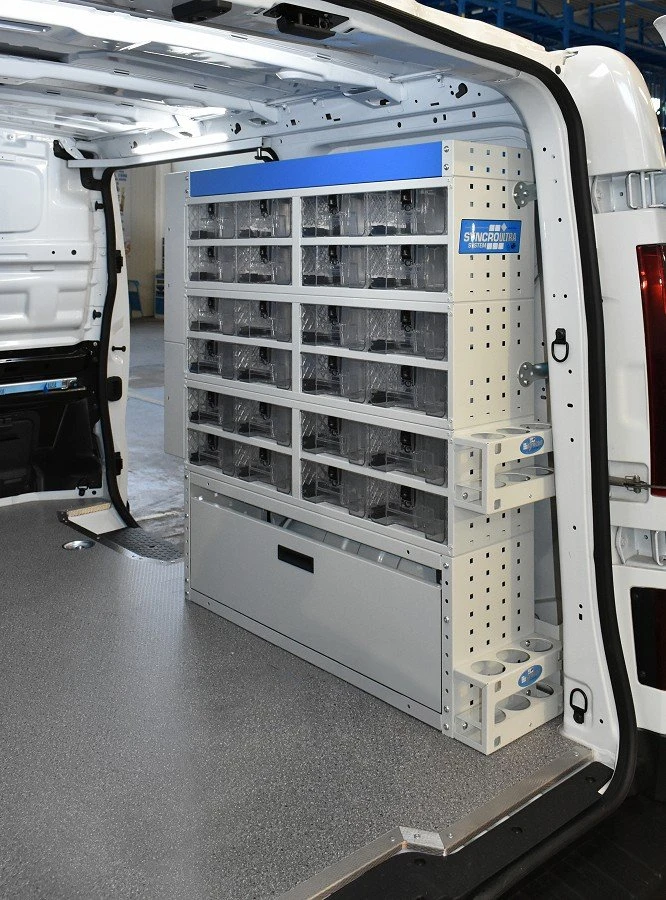 The second step in this Talento upfit, and the most complex, was the installation of the various storage units, accessories and components in the lined load compartment.
In this particular van:



The left side wall is fitted with two similar columns. Both have wheel arch units at the bottom, but one is closed by a door while the other is open and fitted with a cargo bar and strap lashing system to transport tool cases. Above these come open shelves complete with non-slip mat and metal dividers, then two drawers, another shelf and a full length top tray. The equipment on this side is completed by two very important accessories: a vice with pull-out support, perfectly adequate for most small jobs that need to be done on the road, and a smart way of using less space in the load compartment; and a paper roll holder, one of Syncro's most popular accessories and essential for drying and wiping dirty hands.

The right side wall has been fitted with column of transparent, tilting and easy-to-remove plastic containers in two different sizes. More and more customers are choosing this solution for a number of good reasons: first of all it occupies very little space in terms of body width while providing generous storage capacity; secondly transparent containers look clean and professional and let users see what is inside without having to open them!

The bulkhead of this Talento was fitted with a customised rail and strap cargo lashing system.

Syncro's offering for the Fiat Talento: custom storage, roof transport systems and access ramps
Syncro System has developed a wide range of accessories for the Talento, covering the needs of cleaning, load compartment ventilation, low energy lighting, vehicle and cargo security and more besides.
The roof of the Talento can be fitted with Syncro roof bars, roof racks, transport tubes and ladder racks, all made to measure. The van can also be equipped with an access ramp from a range of hundreds of different versions.

To fit out your own Fiat Talento, just ask Syncro System. We shall be delighted to design a customised storage system that matches your needs to perfection, and install it in next to no time!