CONNECT: THE SMALL VAN FROM FORD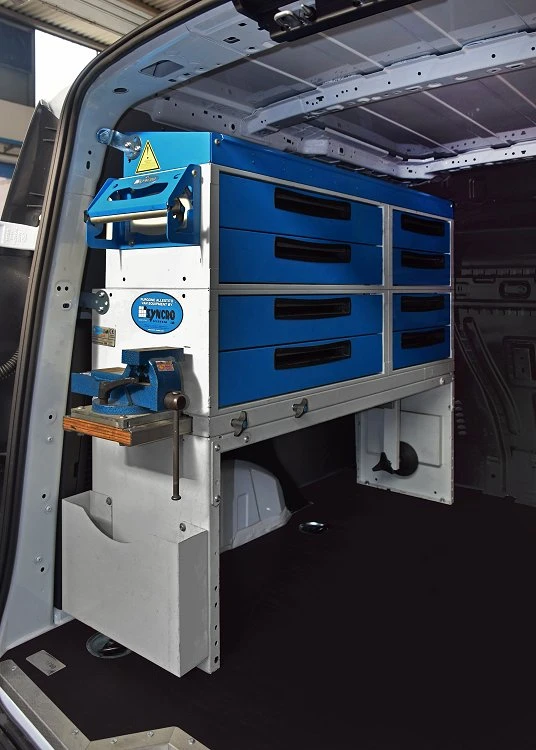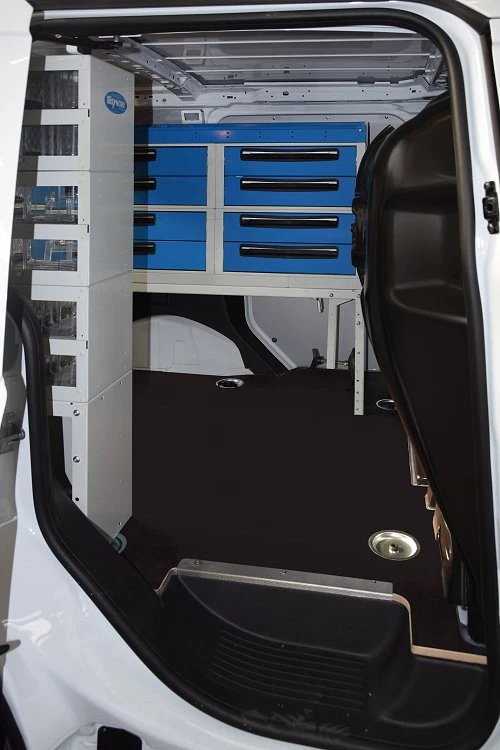 The Ford Connect is a small commercial vehicle made by Ford, and has been sold in Europe since early 2003. A second generation was presented in late 2012 and entered production in the first quarter of 2013. Ford markets the Connect, which is based on the Focus platform, as a compact van for urban use. The Connect is a small van, though not the smallest in the Ford range. The body is standard for a multispace van, and features a well-connected cab and a load compartment which, though not large, is square in shape and easily accessible. A large number of companies use this type of van either to carry cargo or as a mobile workshop, and often for both purposes together.
WORKING WITH SOLAR HEATING SYSTEMS IS MUCH EASIER THANKS TO THE RACKING IN THIS CONNECT
The owner of this Connect needed to fit out his van as a small but practical workshop on wheels for installing and servicing solar heating systems.
The left side wall houses a pull-out vice support and all the owner's tool cases in addition to a set of drawers and a shelf. The right side wall is fitted with a large number of transparent plastic containers for spares and other small parts.
But let's start from the beginning! Like all vans, the Connect comes with no real impact protection and is therefore liable to damage by falling or sliding cargo. To prevent this, the Syncro team fitted a floor liner made from 12 mm thick, resin-coated plywood, complete with steel edging and cups for the original floor anchors. This lightweight and robust floor liner also serves the purpose of providing a perfectly level surface and rigid anchorage for the racking.
The van's side walls were then protected with galvanised and painted steel sheet liners, accurately laser cut to match the shape of the bodywork.
Now let's look in more detail at the racking itself. The left side racking starts, at the bottom, with a wheel arch cabinet fitted with an automatic tool case shuttle. On top of this is a pull-out vice support complete with a 110 mm steel vice on a rotating base. Further up again we come to four cabinets containing eight steel drawers on telescopic runners. These drawers are complete with non-slip mats, aluminium space dividers and handles with an automatic device for keeping them closed. At the very top is an open shelf with space dividers and a non-slip mat.
Moving over to the right side, at the bottom we have a wheel arch cabinet with a fully opening, lift-and-rotate door that provides easy access to the space around the wheel arch. Further up is a block of three cabinets containing a total of thirty removable transparent containers – one of the best-selling products in the Syncro catalogue. These containers are extremely practical because they let users see instantly what is inside, and also incorporate an automatic locking button. They are also incredibly strong thanks to an intelligent design without protruding parts and the use of PMMA, the tough and long-lasting material used to make aeroplane and submarine windows!
The customer also chose to fit two practical accessories on the left side: a multi-purpose storage rack at the bottom and a paper roll holder at the top. To exploit the space on the Connect's roof, the Syncro team fitted a roof rack with side fences and a rear roller.
Thanks to this compact but effective workshop on wheels, the customer has found his work of installing and servicing solar heating systems so much easier. Another mission accomplished, thanks to the expertise of the Syncro team!