Syncro roof bars for the 2016 Fiat Talento feature Syncro's exclusive Ultrasilent aerodynamic profiles for significantly less noise and vibration on the road as well as greater passenger comfort and reduced fuel consumption.
The mountings are all in stainless steel and are simple to fit and remove. Bars and racks can therefore be moved quickly and easily from one van to another.
The tops of the cross bars are rubber coated.
ROOF RACK WITH REAR LOADING ROLLER AND SIDE FENCES FOR THE 2016 TALENTO
This complete roof rack comes with a stainless steel roller at the back for easy loading with no risk of damage to the bodywork.
Side fences stop cargo slipping off the sides.
Syncro roof racks for the Fiat Talento can also be customised, for example by fitting more or fewer cross bars, specifying shorter or longer side fences and adding ladder slides and transport tubes.
LADDER RACKS FOR THE 2016 TALENTO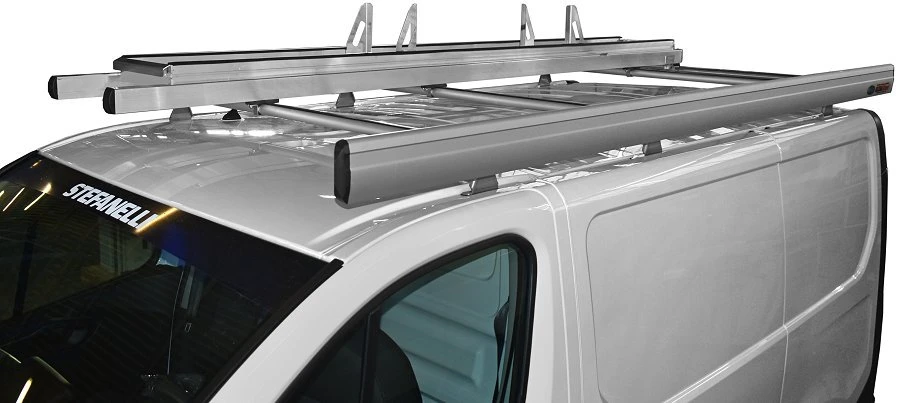 Syncro can also fit your Fiat Talento with a special ladder rack featuring a damped action slide for heavy ladders or a simple tilting rack like that shown on this page.
Steel or aluminium transport tubes are also available for carrying long items, and can be fitted on roof bars, roof racks and ladder racks.

Discover Syncro's interior linings and racking for the Talento!