To make full use of a specialist vehicle like a pickup, you need custom equipment designed to match the characteristics of a load bed that offers excellent carrying capacity but is very shallow in depth and totally unprotected against the weather.
Syncro System designs, produces and installs under-floor drawers for pickups. The drawers can be opened fully without having to climb on to the vehicle, and are mounted on ball-bearing runners to provide easy access to all the contents.
Under-floor drawers: secure and practical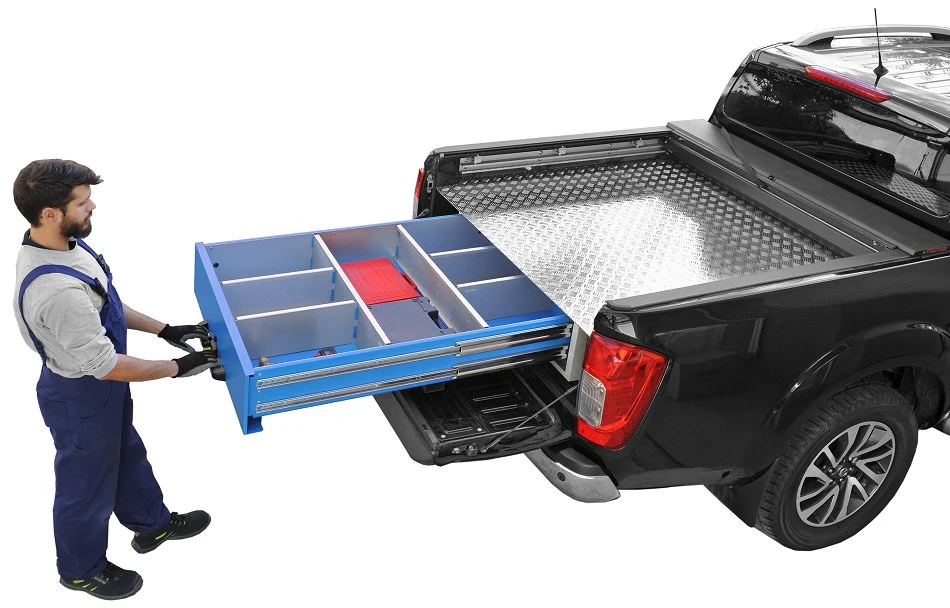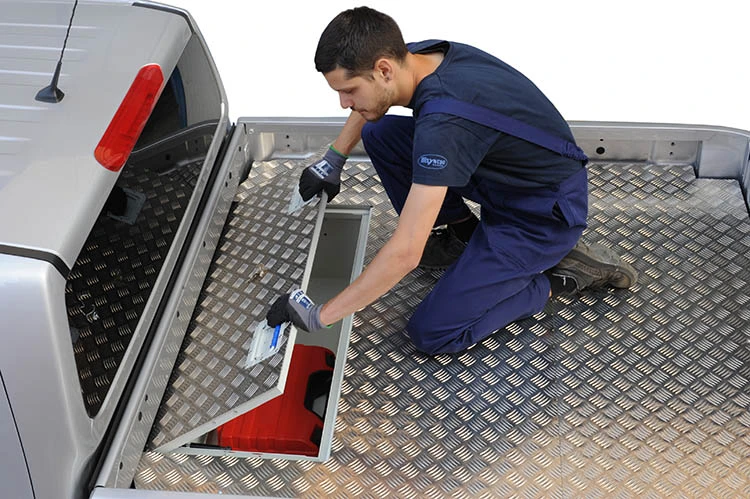 Under-floor drawers share many characteristics with Syncro System's other metal drawers, and can even be divided into different compartments by fitting metal dividers in the slots provided.
The front of the drawer, however, is different. Instead of the usual recessed handles, the drawer is fitted with a large yellow button in the middle, and two handles alongside. The button releases the drawer for opening. The handles are ergonomically designed to permit the drawer to be opened and closed easily. Special attention has been paid to security: the drawer, which is installed outside the vehicle, is therefore fitted with a keyed lock.
Another feature of Syncro's under-floor drawers for pickups is the ability to retain hold the drawer fully closed, fully open, and in various intermediate positions.
Load-resistant covering floor
The drawer in the back of the pickup is covered by a load-resistant floor panel in non-slip aluminium tread plate. This floor is strong enough for users to walk on and can also carry cargo, which can be held in place by one of Syncro System's cargo retaining systems.
An under-floor storage compartment for valuable items
A second practical storage compartment is located under the floor behind the cab. This hidden storage well can only be accessed by climbing on to the back of the pickup.
The storage well is virtually invisible from the outside and can even be covered by cargo to hide it completely from sight. The well is fitted with a key lock and two handles to lift the cover and access the contents. Two gas springs prevent the cover from closing accidentally.


Syncro's under-floor drawers let you exploit the back of your pickup to the full and in total security!