UPFIT OF THE CUSTOM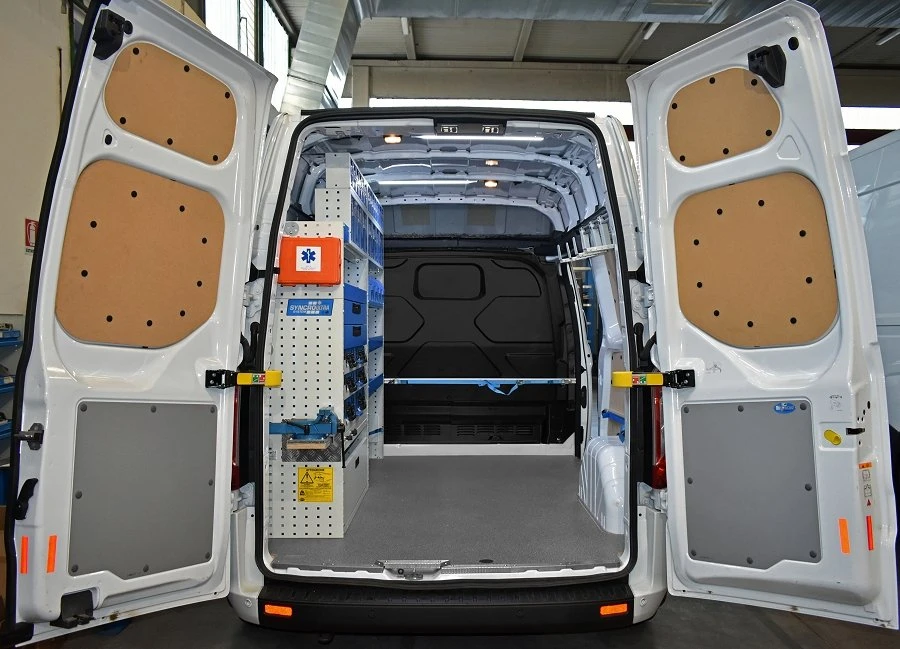 Ford recently decided to introduce a mid-size van to its line, which until now, has been missing from the German/American automotive company's fleet.
The result is the Custom, a mid-size van which has a surprising amount of cargo space considering its moderate size.

The Syncro Group responded by immediately adding a Ford Custom line to their already vast range of van upfit products: all of the shelving and drawer units, accessories, roof racks, and ramps are therefore ready to transform the new Ford touring van into a practical and extremely efficient mobile workshop – perfect for tradesmen, craftsmen, maintenance workers, builders working on constructions sites, or doing work in homes or offices.
The photos on this page show an example of an interior upfit on left hand side of a Ford Custom, with shelving and drawer units.
INTERIOR PANELS AND LININGS FOR THE CUSTOM
The floor panel for the Ford Custom comes in either laser-cut chequered plate aluminum from 2 mm + 1.8 mm or durable resin coated 12 mm plywood – cut with CNC precision machinery and complete with special non-slip borders. The wood used is 'marine' plywood with phenol formaldehyde resins, which repel water and dampness, creating a seal that ensures long-lasting durability. The surface is coated with a non-slip surface, adding extra protection also for those loading and unloading the van.

For the paneling for walls, ceiling, and doors, there is a choice between pre-coated galvanized steel, aluminum, or alveolar plastic – all laser cut to fit the exact shape of the van interior for superior protection of walls, side and back doors, and the whole cargo space of the Custom, including protective panels for the bulkhead and wheel well covers in wood, or wood and aluminum.

Thanks to the floor panels, and interior protective panels and linings, owners of this brand new Ford Custom can be assured years of working with their vehicle without causing damage from loading and unloading cargo.
ROOF RACKS AND LADDER RACKS
The Syncro system for roof-top loading is also available for the Ford Custom. The completely modular, mix and match system adapts to the different needs of each client, whether it be to transport ladders, tubes or any other materials, including merchandise and equipment.
All-purpose utility bars and (if needed) side rails and rolling back bars, ladder racks (drop-down or cushioned), tube carriers for tubes and pipes and other elongated objects. All materials are GS certified and come with the exclusive Syncro Ultrasilent design that drastically reduces noise and vibration during transit.