OPEL CORSA VAN
With Syncro shelves and drawers in your Opel Corsa, you can say goodbye to disorder and time-wasting. Syncro racking maximises available space even in small vans. With Syncro, all your tools and materials can be arranged tidily and made instantly accessible in drawers, shelves, containers or cases. So no more time wasted searching for material you can't find!
Find out today how much money a Syncro racking solution can actually save you! Our specialist racking centres are at your disposal!
---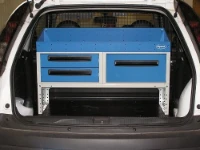 02a
---
---
SEND YOUR REQUEST!!!
OUR CUSTOMER SERVICE TEAM WILL CONTACT YOU AS QUICKLY AS POSSIBLE.
Syncro System
OPEL CORSA VAN