The latest, revised and corrected edition of Syncro System's extremely useful catalogue of van racking products has arrived. Edition 22-3 is organised and laid out much like previous editions but introduces some important new products as well as new examples of racking solutions in the already rich final section.


You can browse the catalogue here:
Or, if you want to have it available offline, you can download it by clicking here.
New products for the end of 2020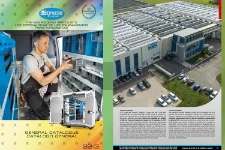 As with every new catalogue, this latest edition features a number of changes and additions. Our R&D department is constantly coming up with improvements to existing products and testing new racking ideas and accessories to satisfy your needs more effectively.
In particular, edition 22.3, introduces:



two-layer floor liners in birch plywood and aluminium tread plate


ultra-heavy-duty horizontal profiles that complement existing types and allow cargo retaining accessories to be attached directly to the racking


a new lift-up door with a lock for improved security


a new type of inverter ;


a wind-driven extractor that completes our range of van ventilation products and does not use any power


alcohol-based gel and hand cleansing cream covering most of the cleaning and sanitising needs that have emerged during the course of 2020


ladder clamps.


Other products already found in previous catalogues have been improved and updated. Examples include side panels, drawer adapters, pull-out vice benches, under-floor drawers for pickups and bar racks.

So take a look for yourself! Scroll back up and browse or download Syncro System's catalogue no. 22-3!

We would be happy to see you at any of our dealerships if you would like to come and see us. Book an appointment for a free and commitment-free consultation or simply to learn more about the Syncro Ultra system.