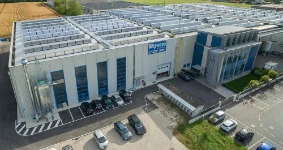 Work to further extend the factory in Via Portile was completed in 2018. The building now provides 10,000 square metres of usable indoor space, arranged on three floors. The roof is completely covered by solar panels. Another 10,000 square metres of space is available outdoors and offices are now housed in a dedicated four-level block.

The new extension, which lies on the east side of the existing building, was needed to cater for growth in Syncro's customer portfolio over the previous two years. Rocketing demand for production led to internal re-organisation, the creation of extra space for new, highly specialised machines and the taking on and training of new employees.


Total area of the Francom plant in Cassola: 10.000 sq.m

Arrangement of space above ground: two floors, with distinct areas for cutting and bending sheet metal, cutting plywood panels, painting and assembling metal parts, for packing and shipping, and for a full-height warehouse.

Underground space: the basement floor is the same size as the ground floor and is used to deposit and store materials.

Offices: the new office block stands on the north side of the plant. Its three floors and basement provide 500 square metres of space.

New equipment: Under Francom's investment plan for the years 2017-2018, two million euros were set aside for the purchase of new, high-technology machines capable of connecting to each other and to the company's IT infrastructure. The new equipment includes two laser cutting machines with fibre technology, two automatic bending machines and two plywood panel cutting and routing machines. These developments have allowed Francom to achieve a saving of 30% in energy consumption while increasing productivity and efficiency.
CONTACT US FOR
A FREE OFFER