REVERSIBLE OPEN SHELVES
Syncro
open shelves
are made from high-strength steel. Raised edges of 36 mm in height (
1 hole
), formed by pressing, run around all four sides. This design allows open shelves to be installed in two ways:
With the edges facing up to provide a minimum of support for cargo at the front and back. In this position, shelves can also be fitted with adapters for cases or Euronorm containers.
With the edges facing down to create a perfectly flat surface for easy access from the front.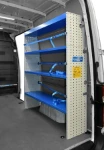 Open shelves can also be fitted with any type of
door
, exploiting the holes provided, and can even be installed at a slight slope to help keep cargo in place.
SHELVES WITH CASE ADAPTERS
Open shelves come with pre-formed holes for fitting
case
adapters in the right position. One shelf can house between one and three cases depending on its size. Shelves come in widths from 507 to 1521 mm.
SHELVES WITH ADAPTERS FOR EURONORM CONTAINERS
Open shelves can also be used to carry plastic Euronorm containers (400 x 290 mm, and 120, 170 or 220 mm in height), with or without lids. In this case too, pre-formed holes ensure that the adapters fit in exactly the right position to support the sides of the containers.
SLOPING SHELVES
Open shelves can be installed at a slope of around 6 degrees simply by using side panel holes at different heights to fix the front and back.
BACK PANELS FOR OPEN SHELVES
Back panels can be fitted in conjunction with open shelves to create storage spaces according to your needs.
COMBINING OPEN SHELVES
Ultra open shelves can be installed at any height between two side panels in a column of racking. They can also be combined with other shelves or with different horizontal elements. The only limitations are those imposed by the size of your van. Discover Syncro's other horizontal racking elements:
---
SEND YOUR REQUEST!!!
OUR CUSTOMER SERVICE TEAM WILL CONTACT YOU AS QUICKLY AS POSSIBLE.
CONTACT US FOR
A FREE OFFER