SYNCRO METAL DRAWERS ARE THE IDEAL SOLUTION FOR VAN USERS WHO PRIORITISE STRENGTH, FUNCTIONALITY AND PERFECT ORDER.
DRAWERS
Syncro Ultra drawers are made from high-strength steel and come in various sizes. There are four heights (72, 108, 144 and 216 mm), three lengths (short: 507 mm, medium: 760 mm and long: 1014 mm) and three depths (310, 360 and 410 mm).
With 45 models to choose from, there is bound to be one that satisfies your needs!
All drawers
share the following characteristics:
a front panel with no protruding parts, and with a recessed handle
automatic locking when closed, with a press-to-release mechanism inside the handle
extension beyond the full length of the drawer thanks to ball-bearing mounted telescopic runners
load capacity up to 120 kg for versions with two pairs of runners.
In addition to "standard" drawers, Syncro also supplies special case trays and writing board kits for converting plain drawers into pull-out desks. Inside, drawers can be fitted with non-slip mats, space dividers and modular plastic containers to keep materials separate and in order.
THE ONLY DRAWER SYSTEM ON THE MARKET RATED FOR 120 KG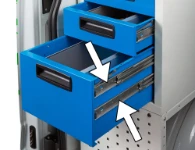 Syncro System drawers of 72, 108 and 144 mm in height are fitted with a single pair of runners and are rated for a load of 60 kg. Drawers of 180 and 216 mm in height, on the other hand, are fitted with two pairs of runners, giving them a total load rating of 120 kg.
ACCESSORIES FOR DRAWERS
Drawers are supplied with two types of standard accessories:
A non-slip mat in synthetic rubber with embedded nylon threads. Syncro drawer mats are lightweight, tough, resistant to oil, chemicals and sunlight and have a high-friction surface to stop contents sliding around when the van is moving. Syncro drawer mats sit snugly in the bottoms of drawers. They are also machine washable.
Two aluminium space dividers for creating separate compartments inside the drawer. Syncro space dividers feature an exclusive locking system that makes them easy to fit and remove but keeps them firmly in place when in use.
On request, drawers can also be fitted with modular plastic containers. These come in 7 different sizes and can be combined as needed to fill the bottoms of all 72 and 108 mm high drawers.
WRITING BOARDS FOR DRAWERS
Equipped with a writing board kit, Syncro drawers also serve as pull-out desks for filling in documents, supporting a laptop or viewing drawings. The kit consists of a marble-look plywood board, two hinges for the rear of drawer and two stops for the front. The kit can be applied to all drawers of 71, 108 or 144 mm in height. Once the kit is installed, the writing board forms a practical supporting surface and provides easy access to the drawer itself.
CASE TRAYS
Syncro case trays open exactly like drawers but are specially shaped to hold cases. They are mounted on telescopic runners and can hold one or two metal cases laid flat, Bosch-type stackable plastic cases or 3 CAS35 containers.
COMBINING SYNCRO ULTRA METAL DRAWERS
Syncro Ultra drawers can be installed at any height between two side panels. They can be combined with other metal drawers or with any other horizontal element, such as:
Because Syncro Ultra drawers are supported by two standard Ultra side panels, they generally do not need a drawer cabinet. There are, however, exceptions: sideways-opening drawers and 70 cm deep cabinets.
SIDEWAYS-OPENING DRAWERS
Sideways-opening drawers offer easy access to contents from the ground, without you having to climb into the van. They come in sets of 2, 3 or 4 drawers in a plain cabinet, and are slightly different in design to standard Ultra drawers.
DEEP DRAWER CABINETS
These cabinets are 706 mm deep (long) and are particularly suited to minivans and company cars. With the back of the cabinet placed against the vehicle's bulkhead, you can access drawer contents from outside the vehicle. Cabinets contain 2, 3, or 4 drawers of the same or different height (100, 130 or 200 mm).
---
SEND YOUR REQUEST!!!
OUR CUSTOMER SERVICE TEAM WILL CONTACT YOU AS QUICKLY AS POSSIBLE.
CONTACT US FOR
A FREE OFFER