STEEL TRACKS FOR SECURING HEAVY CARGO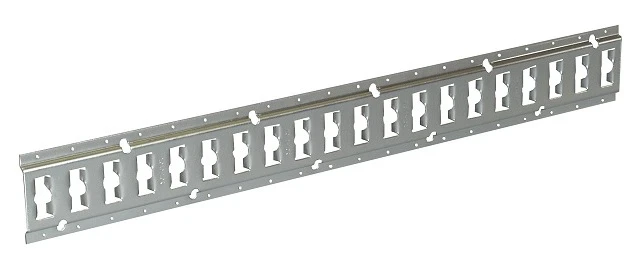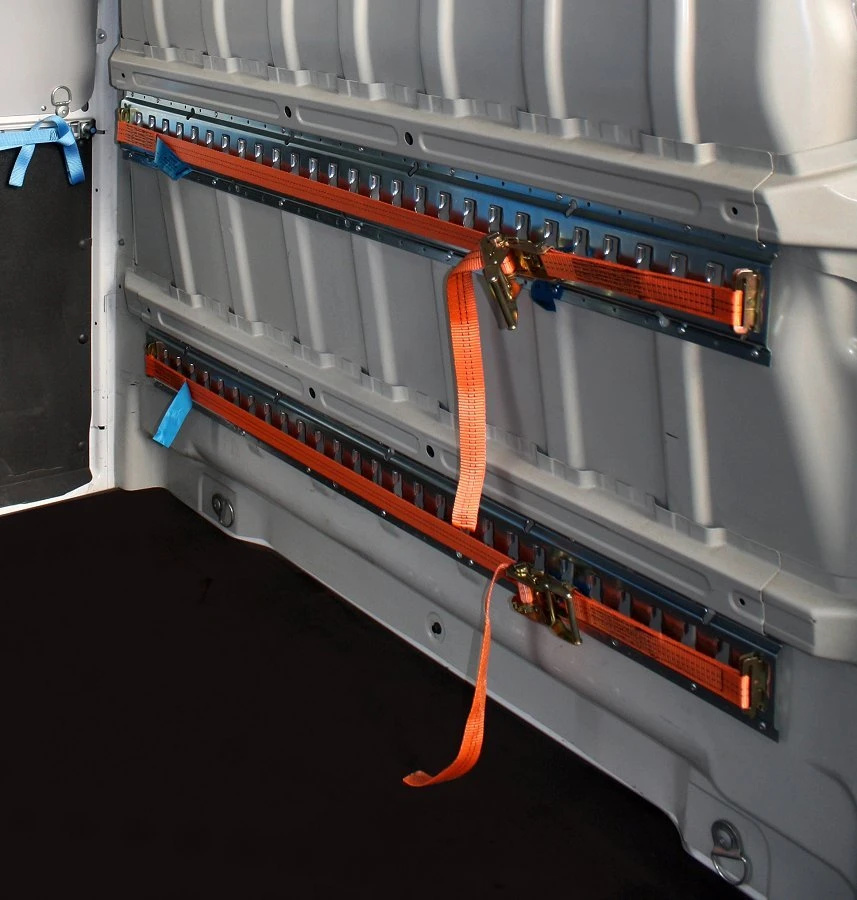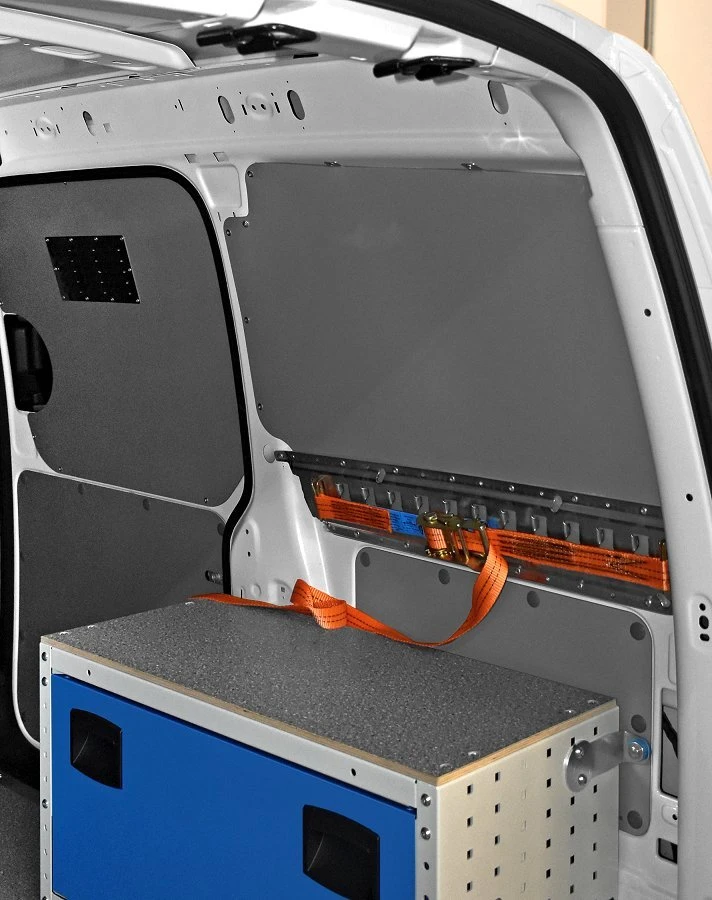 The system consists of a track that can be cut to size, according to the requirements of the customer, and lashing straps of varying lengths with a max capacity of 4,000 kg. The ratchet buckle can be fastened and unfastened quickly and easily. Besides being ideal for securing gas tanks, it's possible to quickly and easily tie down just about any type of cargo.
SLIDING HOOKS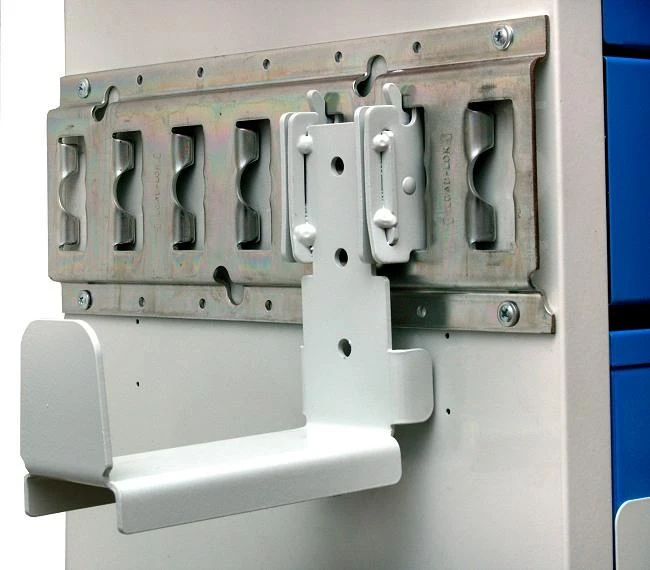 The hooks can be tightened anywhere along the length of the ROTM track. They are versatile and van tough.
ALUMINUM SLIDING STRAP TRACK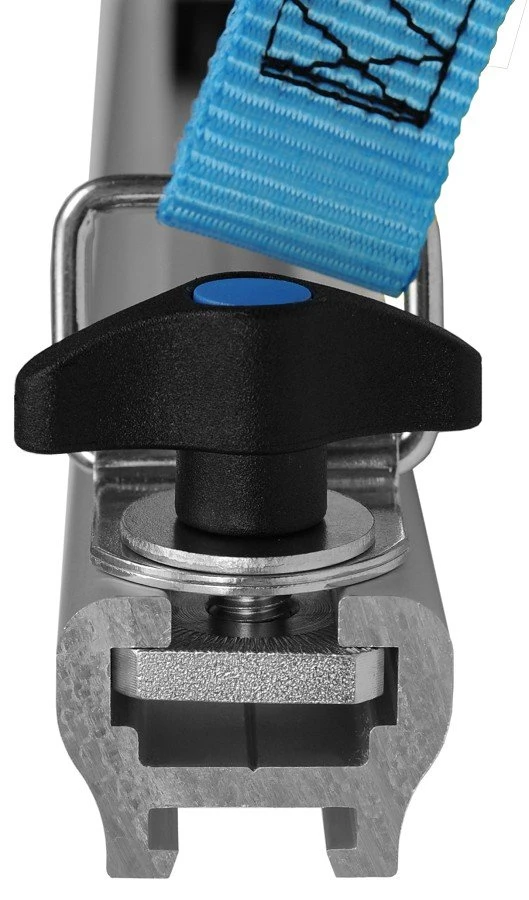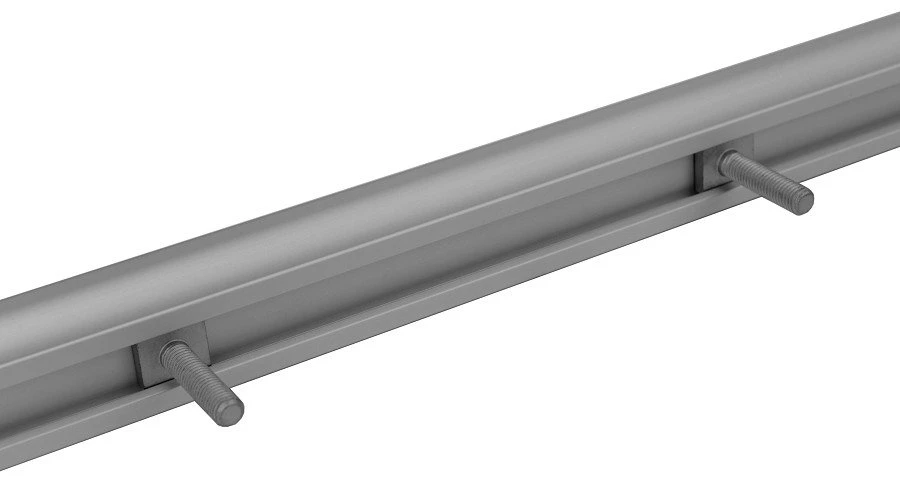 The exclusive and innovative system composed of sliding clasps, straps and the aluminum track model BARALL. The individual parts can be utilized in a variety of ways to secure all types of cargo.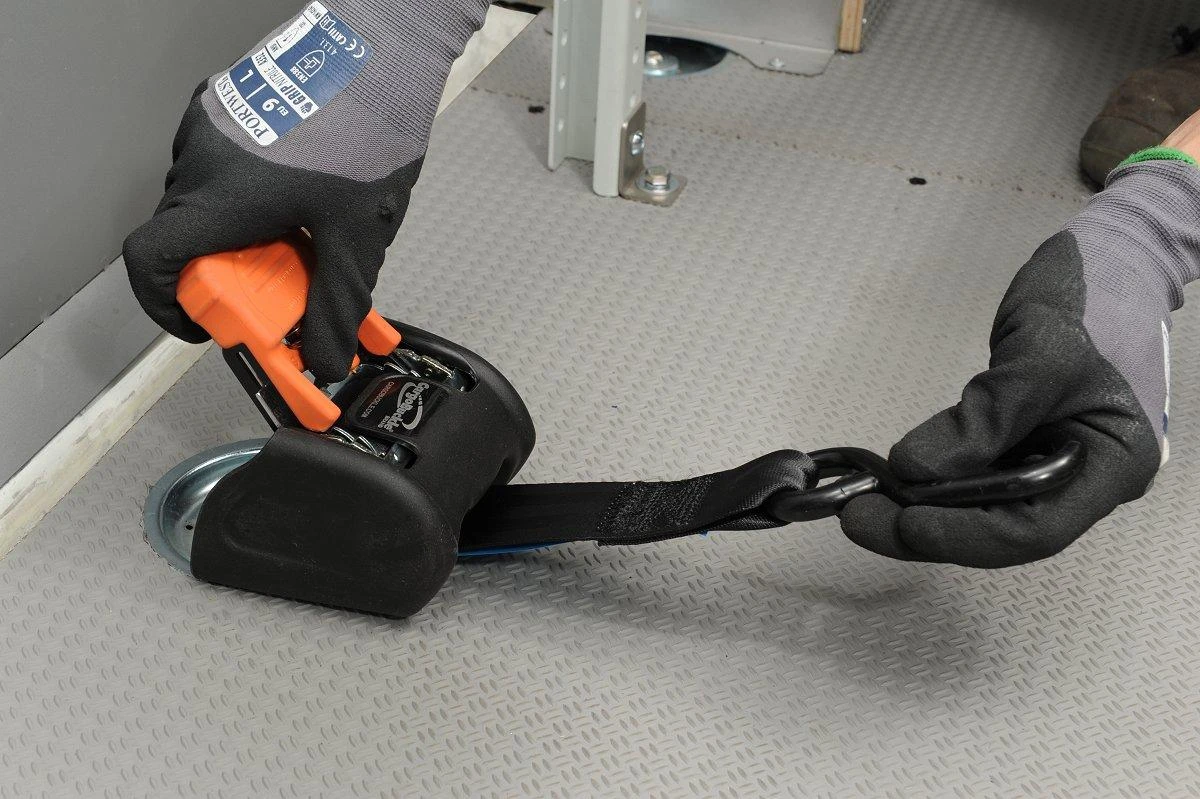 This simple but effective cargo retaining system consists of a compact winder-tensioner with a lock-and-release lever and a 1.7 metre strap. The tensioner block incorporates its own hook.
The tensioner functions in a way very similar to a vehicle seat belt reel.
To use the system, simply release the lever, pull the strap's end hook to a suitable attachment point, secure the hook then tension the strap and lock the lever again.

The system is available in two versions:



basic kit: tensioner with strap and lock-and-release lever;


kit with adapters: the tensioner and strap as above plus two adapters for positioning the tensioner and hook attachment at a variable distance along a metal cargo rail.


FERMATTUTTO VAN CLAMPS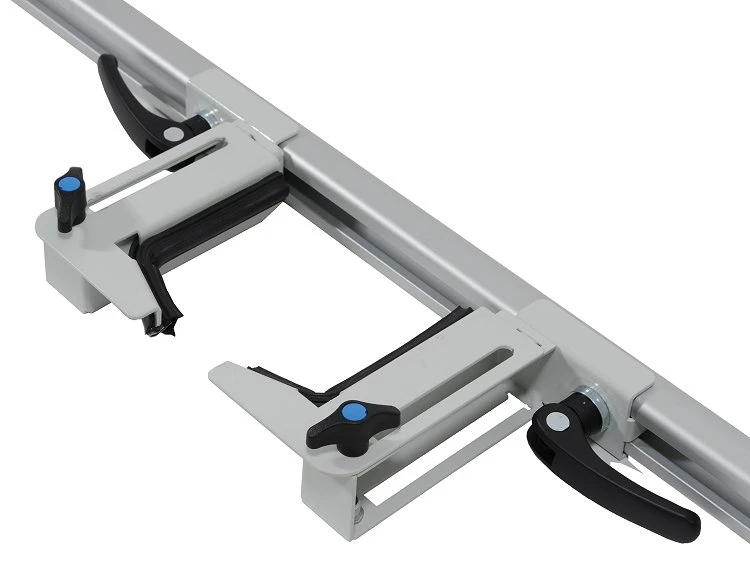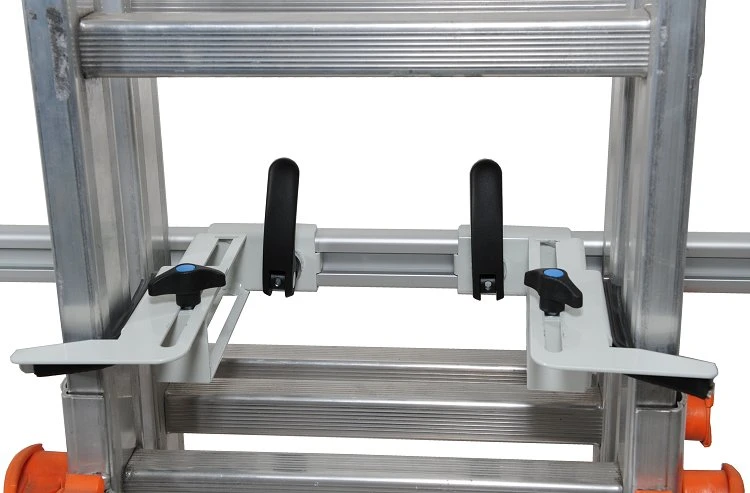 No more material and equipment shifting and sliding around in the back of your van. Syncro System presents its exclusive patented van clamps. They consist of a pair of depth-adjustable (100 to 200 mm), sliding clamps that can be positioned and blocked into any position along the BARALL aluminum track, thanks to the locking handle. They have a reinforced steel core with rubber lining to protect cargo from scratching or denting. They are a fast and easy to use, extremely robust, and adjust in seconds to whatever size item you need to secure, including ladders, panels, ramps, tubes, trolleys and so much more.
SLIDING WIDTH-ADJUSTABLE HOOKS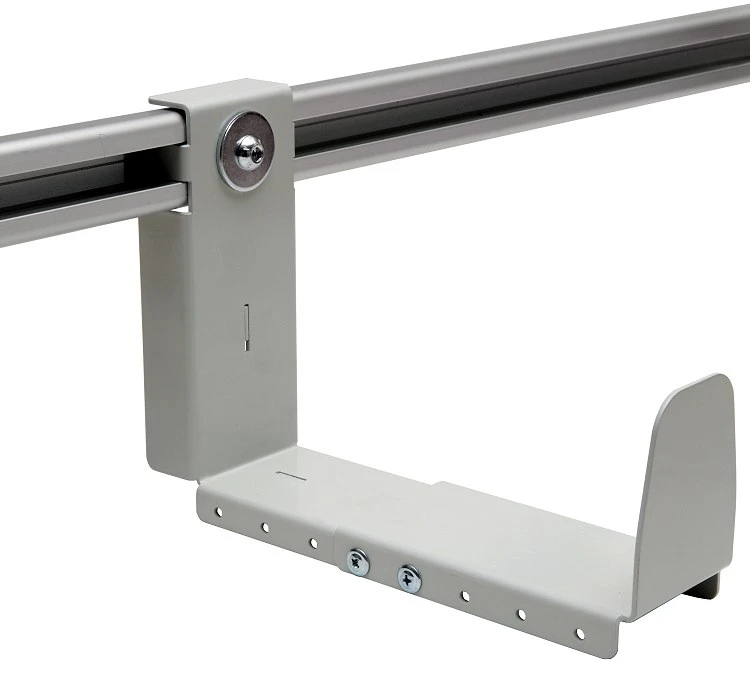 This hooks are designed to be mounted on the BARALL track. They can be tightened into any position along the track. The lower part of the hook is also adjustable in 5 widths, making the hook wider (140 mm) or narrower (90 mm). It is made of high strength steel and is further reinforced by a welded strip underneath it.
NOTCHED TRACKS WITH TIE-DOWN RINGS AND STRAPS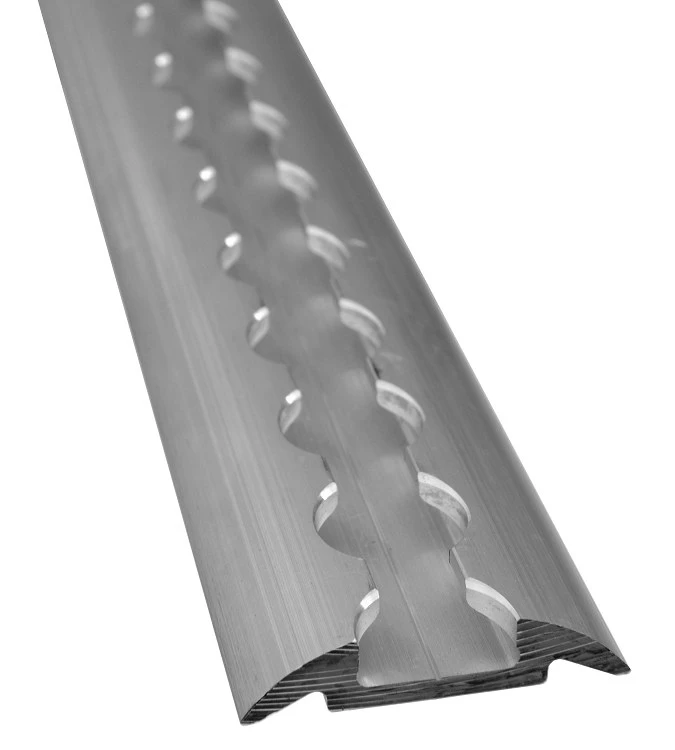 Three different models of notched aluminum tracks to which can be mounted bars, tie-down rings and straps with buckle or ratchet clasp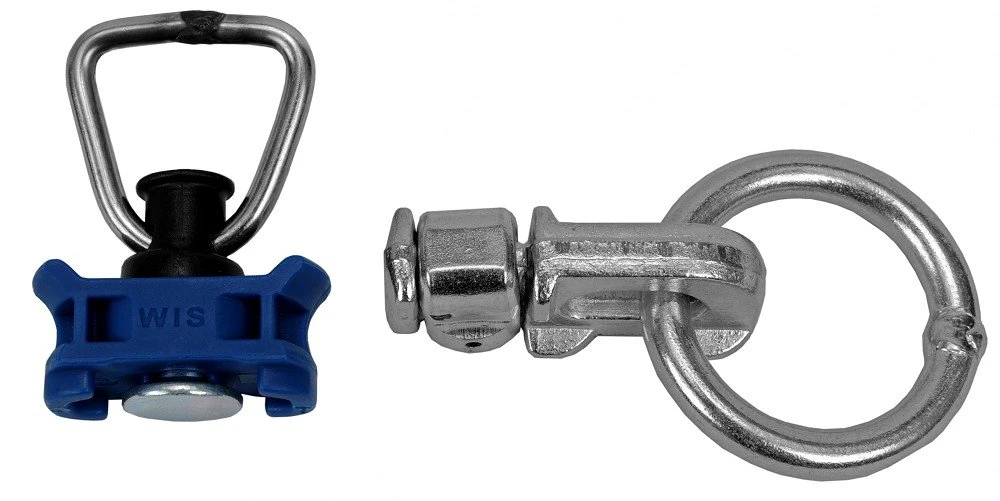 STRAPS WITH HOOKS
Straps with hooks can be used to secure cargo in your van's load compartment. Either you can exploit your van's original anchor rings or you can fit Syncro anchor rings to the floor, walls or racking virtually anywhere inside the van.
STEEL BAR WITH SAFE-TRANSPORT RUBBER STRIP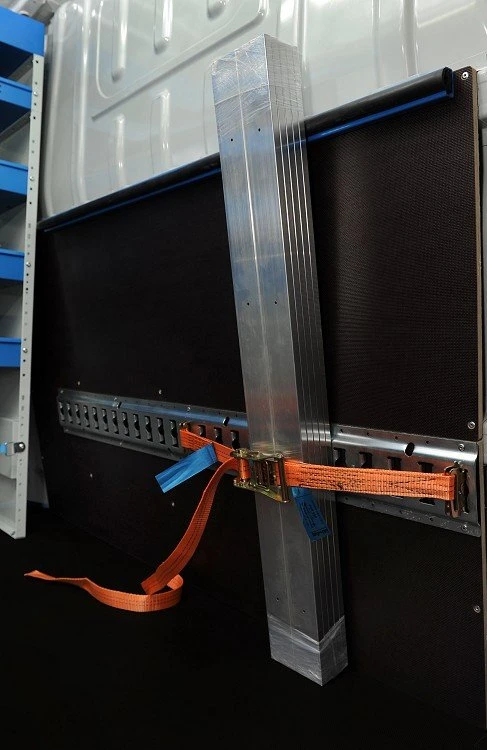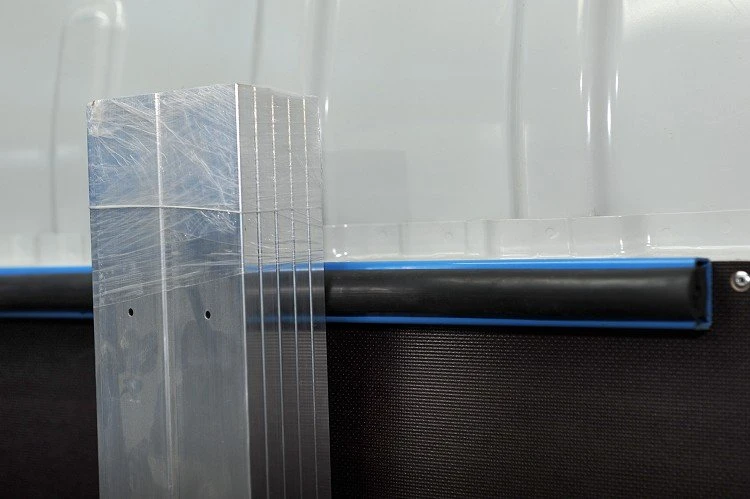 During transport it is vital to securely and safely tie down materials and equipment. Syncro System makes it easy with lots of different safe-storage and tie-down solutions. The steel bar PRF1470 has been specifically designed to prevent scratching and/or denting of transported materials. It can be mounted directly to the body of the van or to racking components. Cargo secured with Syncro straps or bars rests on the tough rubber tubing which effectively protects it from being scratched or dented.
SPRAY CAN HOLDER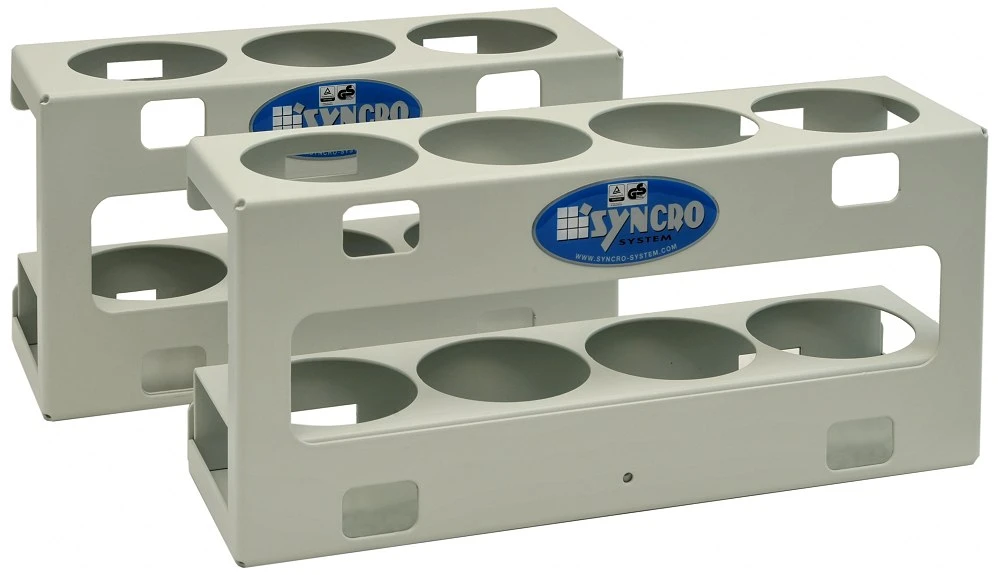 Keep all the spray cans that you need, right in reach. The new spray can holder constructed completely in powder-coated aluminum can hold up to four spray cans. It can be mounted to the end panel of the racking units, to the protective paneling, or directly to the body of the van. Enough of misplaced and hard-to-reach material, with this simple Syncro System solution, even your spray cans are secure on the road and right there when you need them.
HANGING CABLE HOLDER
Made from cast aluminium with a powder paint finish for light weight and strength. 
Available in 3 different sizes
New for 2016: new, more attractive design!
ADJUSTABLE HOOKS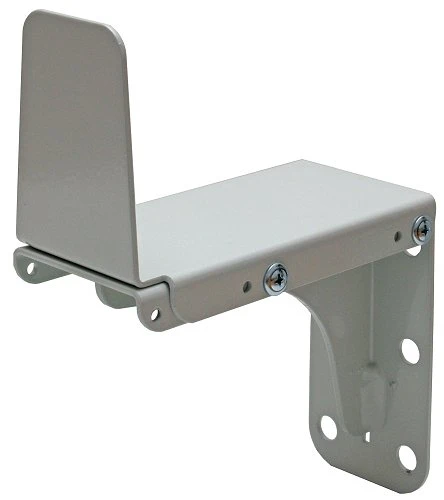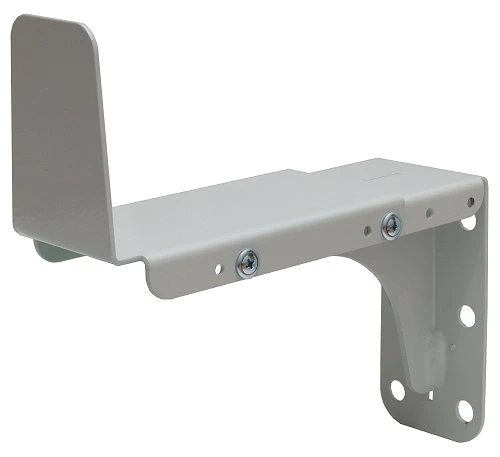 Adjustable iron hooks from 140 to 190 mm.
BRUNS TOOL ORGANIZER SYSTEM
An innovative solution composed of an aluminum track with two types of hooks: a criss-cross clamping hook and a heavy duty J-hook.
ALUMINUM SIDE POCKETS
Made entirely in aluminum to keep them as lightweight as possible. They can be mounted to the protective paneling or to racking components.
HANGING TOOL ORGANIZER

Small tool rack with drilled holes that can be mounted to the side panels of the drawer or shelving units. It comes with a variety of clamping hooks that securely hold all types of tools.
FIRE-EXTINGUISHER BRACKET
The new fire extinguisher bracket easily adapts to hold a variety fire extinguishers.
Once in place, the extinguisher is locked in with a durable strap and clasp.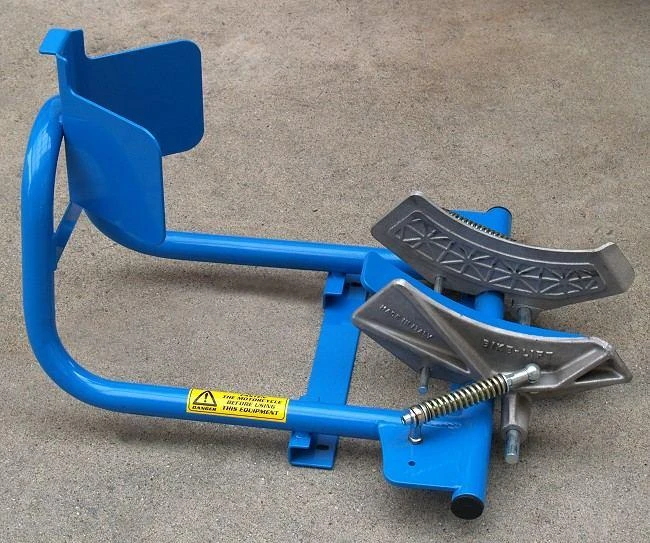 A practical and fast system for securing and transporting motorcycles on board your van. All models are equipped with a pair of self-locking clamps that automatically locks into place when the bike is rolled in and unlocks when the bike is rolled back out – making it easy for a single person to load and unload. Once in the chock, the bike stands without the use of the kickstand. The chock comes complete with two ratchet straps for securing the wheel in place.
ALUMINIUM TOOL RACK WITH PLASTIC CLIPS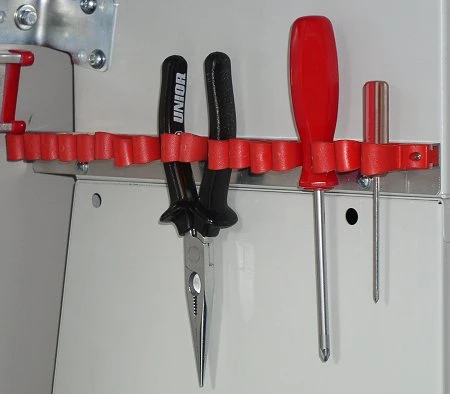 An innovative and incredibly quick way of storing all kinds of tools like screwdrivers, pliers, wrenches, etc..
LONG ITEM STORAGE KIT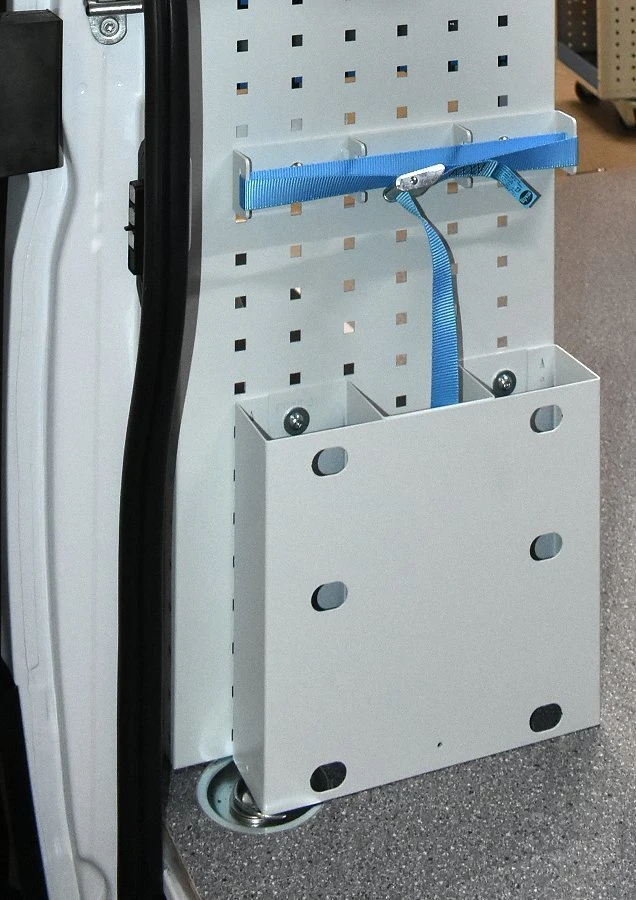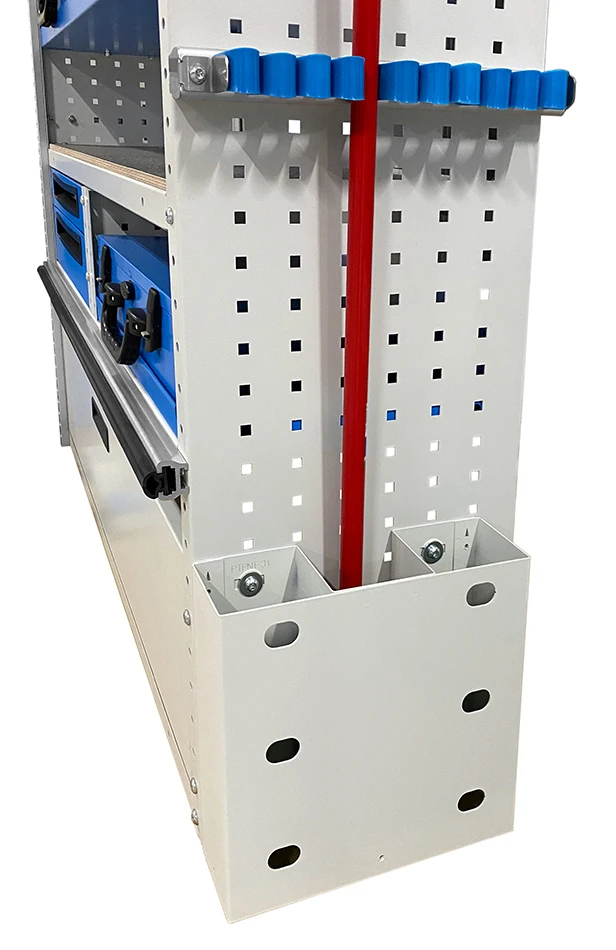 The kit consists of a rectangular base divided in three compartments, situated on the floor, and a bracket also divided in three sections mounted above it. Ideal for industrial drill bits, shovels, pickaxes and much more.
TIE-DOWN RINGS
D-ring and mount or fixed position ring fasteners.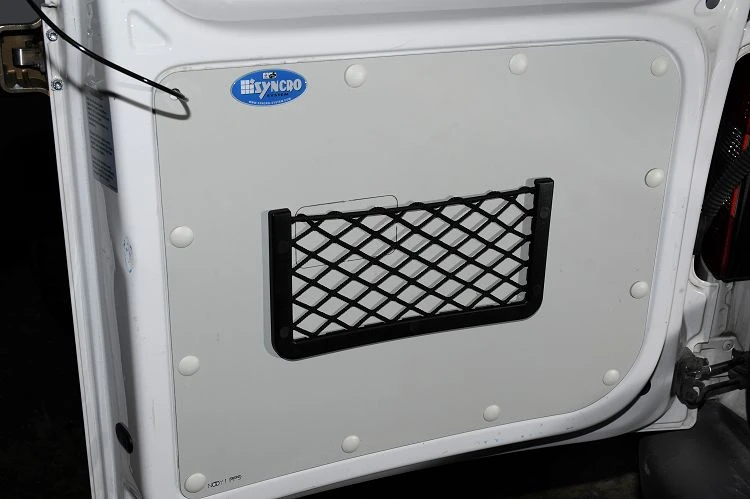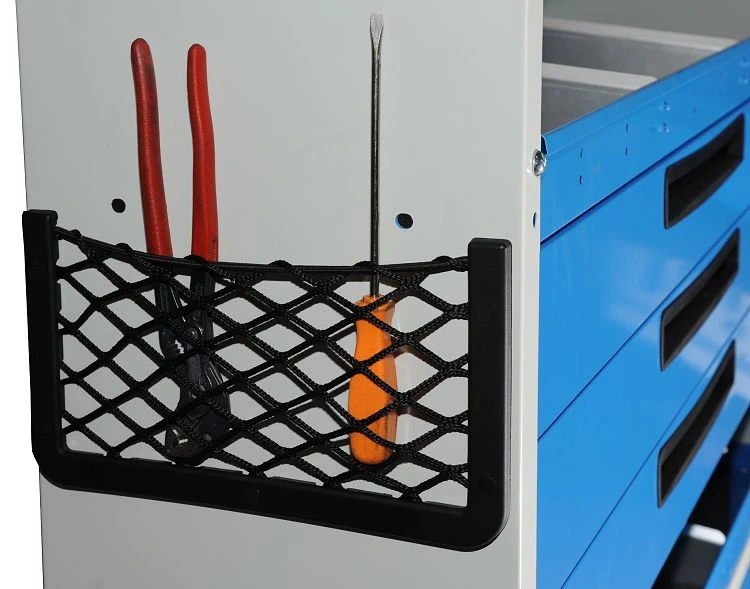 A practical accessory for securing documents, tools, and miscellaneous items.
A strong plastic frame that supports a criss-crossing cord net with an elastic band at the top
It can be mounted to the van itself, to the racking units, or to the interior protective paneling.

Available in two sizes: 302 mm. or 325 mm.
SILICONE TUBE HOLDER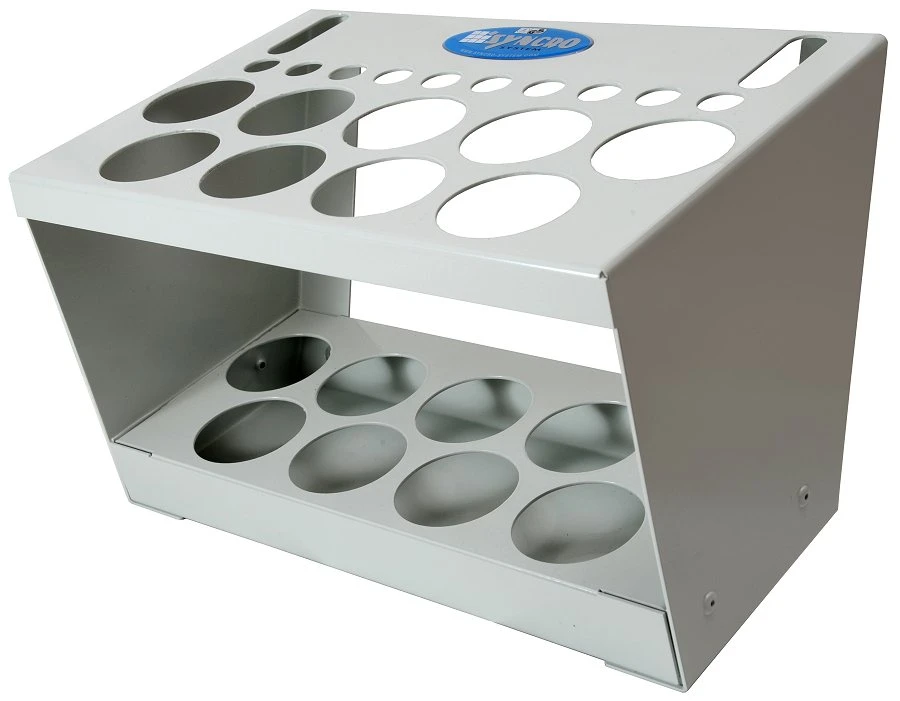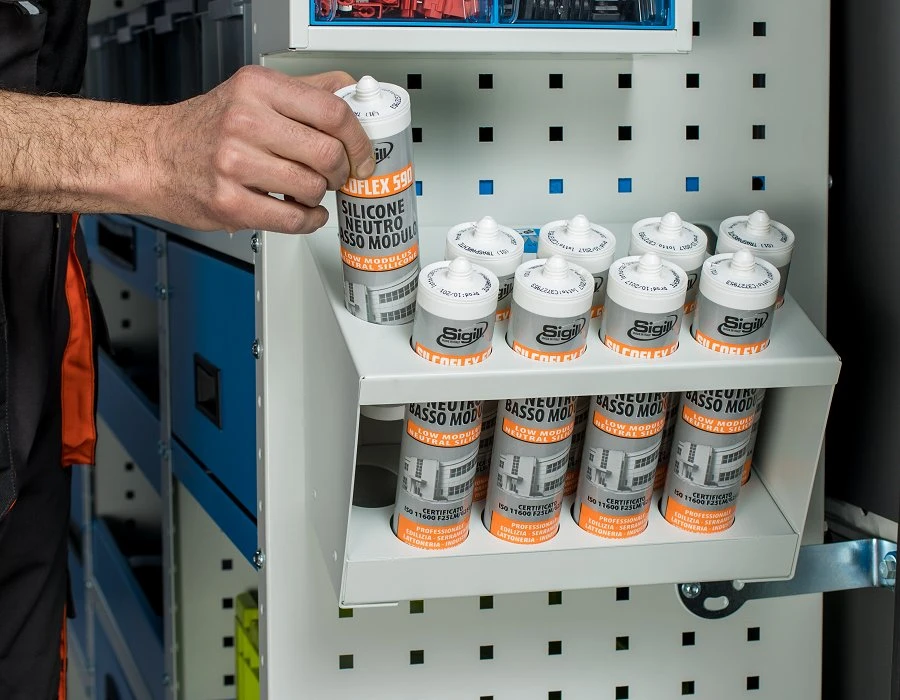 It can hold up to nine caulk/silicone tubes, and due to its space-saving, inclined design, tubes can be inserted with nozzles attached. It is constructed in powder-coated aluminum. It can either be mounted to the body of your or to the racking systems in the van.
Its aluminum construction and durable powder-coated finish makes it very resistant and lightweight. And because of the double-row, inclined design, even though it can store up to nine tubes, it takes up very little space in your van.
STEEL AND RUBBER CLASPS
Clasps made of steel and rubber to lock down materials and equipment. Available with two different sized rubber parts.
VAN CAB LAPTOP/NOTEBOOK STAND
Made completely of sturdy, lightweight aluminum, it attaches securely to the passenger seat without the need of tools –making it convenient to put up or take down when ever you need to use your portable computer. Two velcro straps hold any size laptop securely in place, and thanks to two adjustment knobs, you can position it however you like.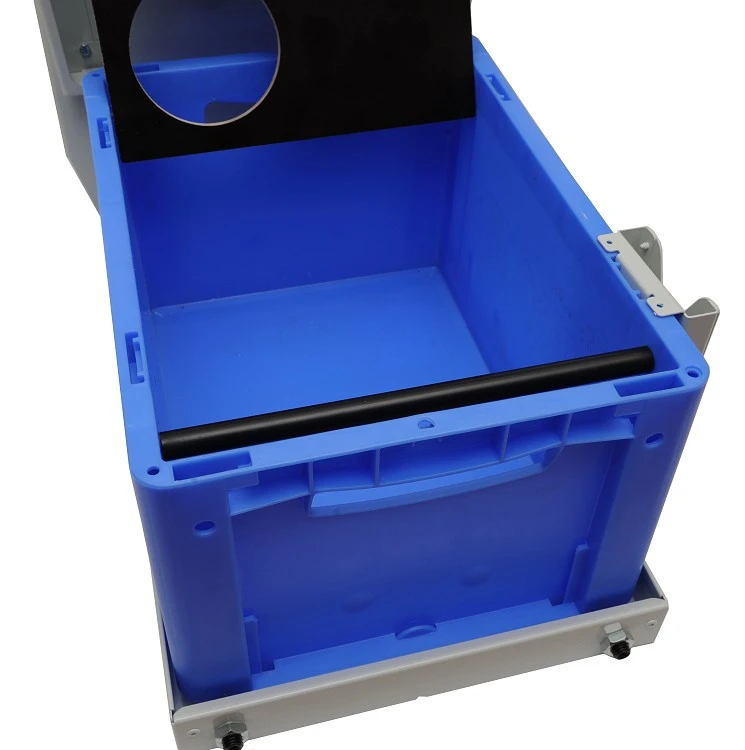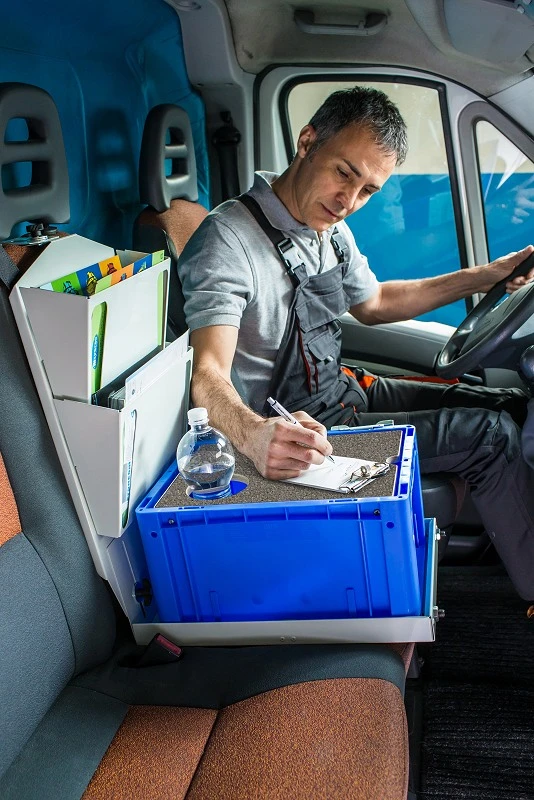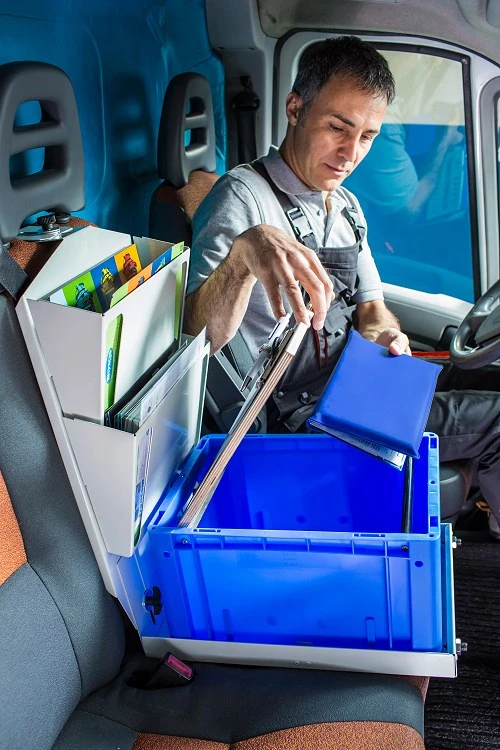 The Syncro ORGANIZER belts in easily to the passenger seat and locks securely using a clamp fixed under the headrest. Two large upright file holders allow for fast storage and easy access to papers, lists, brochures, etc. The cell phone holder can be placed in four different positions, and a clip allows for holding down pens and papers. A cup holder conveniently holds water bottles. The blue box organizer can be put in position, moved or removed in just seconds.