FED UP WITH JUMBLE AND TIMEWASTING?
HOW MUCH COULD YOU SAVE WITH SYNCRO SYSTEM? ON AVERAGE SYNCRO SYSTEM RACKING SAVES VAN USERS: 30 MINUTES A DAY x 30.00 €/hour x 220 WORKING DAYS/YEAR x 5 YEARS = € 16,500.00
•1 RACKING THAT TURNS JUMBLE INTO ORDER!
Without a van racking system for storing and securing tools and equipment inside your van, all you can do is pile everything on to your van's floor when you travel to work. If you then have to brake or steer suddenly, your material slides around, potentially damaging the bodywork and jumbling up an already untidy pile of stuff. Syncro System racking lets you store even large amounts of material securely and tidily. By exploiting the height of your van, Syncro racking leaves you with plenty of floor space for carrying large items of cargo. And if all your tools and materials are placed tidily in drawers and on shelves, everything remains in place throughout the journey and is easy to find again when needed. This saves you time searching for missing tools and avoids the cost of repurchasing lost items. Syncro racking solutions also include practical items like: - Pull-out or fold-away vice benches – useful and quick to set up - Work benches - Interior lights - Hooks - Computer and printer compartments - Lockers - Case compartments - Handwash kits with water, soap and paper - Component cases for keeping all your screws, cable terminals, wall anchors and other small parts Properly equipped, your van becomes a workshop on wheels!
•2 LIGHTWEIGHT BUT ROBUST CONSTRUCTION IN ALUMINIUM AND HIGH-STRENGTH STEEL
Syncro System shelves, drawers and most other van racking parts are made from high strength steel. Some other parts are made from plastic, aluminium and plywood. Thanks to their superior design and build, Syncro products are extremely light, strong and durable – a double saving because not only are they long lasting but their light weight means lower fuel consumption too!
•3 THREE-YEAR WARRANTY
Syncro System material is covered by a 3-year warranty against defects of manufacture, starting from the date of installation.
•4 A MORE PROFESSIONAL IMAGE
You can't judge a book by its cover. But nobody can deny that, in business, appearances are important. A Syncro racking system ensures that your customers get a good impression of your professionalism! New customers will judge you by your appearance. With Syncro System racking, you look professional on your very first visit.
•5 EASY FINANCE
The cost of a Syncro racking system can be included in the finance or leasing agreement for your new vehicle.
•6 RAPID INSTALLATION & INSTANT SERVICE
Vehicle idle time is reduced to a minimum: it rarely takes more than one day to install racking in a van. Under certain conditions, your van need not be off the road at all. You can save time by having us fit out your new van while all its documents are being prepared. By the time the documents are ready, your van will be ready too!
•7 RE-USABILITY OF RACKING
Syncro products are made to last and to withstand the stresses and strains they are subjected to in daily use. Syncro racking is extremely robust and durable as well as completely modular. You can therefore remove a racking system from an old van and install it in a new one, adding more modules if needed. We can't tell you how long our racking lasts. We've only been making it since 1996!
•8 DIFFERENT DEPTHS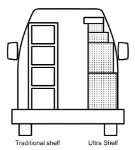 All modern commercial vehicles have inward-sloping sides, so modules of different depth are essential to exploit available space to the full. Conventional vans racking is designed for use against vertical sides.
•9 ASYMMETRIC MODULES
Unlike traditional racking, Syncro modules can be installed asymmetrically. This allows the bottom of the racking to be deeper than the top, or vice-versa, if you want certain modules to protrude into the load space.
•10 BODYWORK PROTECTION: FLOOR, WALL, DOOR AND BULKHEAD LINERS
Vans come with virtually no interior protection. This makes it very easy for falling cargo to damage the bodywork.
All Syncro floor and bodywork liners come cut to size and predrilled, ready for installation.
You can get your van lined in one or two hours at the most! Ready-made liners are available for all makes and models of van! Floor and bodywork liners for the Fiorino, Citroen Nemo, Peugeot Bipper, Citan, Fiat Ducato, Fiat Talento, Fiat Doblo, Citroen Berlingo, Peugeot Partner, Caddy, Sprinter, Transit, Custom, Transporter, Combo, Connect, Daily, Master, Jumper, Trafic, Vito, Vivaro, Kangoo, Movano, Jumpy, Boxer, Expert, Crafter, Interstar, Primastar, Dokker, NV300, NV400, NV200, Toyota ProAce, Toyota ProAce City, NV250, Scudo, MAN TGE and other vans
•11 REPAIRING A VAN'S BODYWORK CAN COST THOUSANDS OF POUNDS: FAR MORE THAN THE COST OF SYNCRO SYSTEM PROTECTIVE LINERS!
---
SEND YOUR REQUEST!!!
OUR CUSTOMER SERVICE TEAM WILL CONTACT YOU AS QUICKLY AS POSSIBLE.
CONTACT US FOR
A FREE OFFER