ROOF BARS FOR THE TRANSIT

Aluminum load bars, for the roof of your Ford Transit. The feet are constructed of stainless steel and are simple to attach and to remove, making it easy to move your roof rack from one van to another. Rubber stripping protects cargo while loading and unloading, as well as while on the road.
TRANSIT ROOF RACK WITH REAR LOADING ROLLER AND SIDE RAILS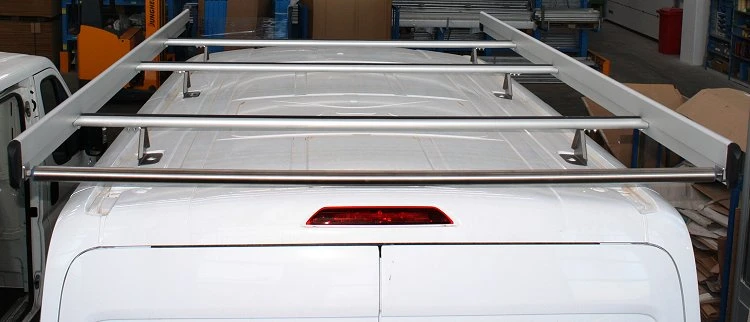 A complete Transit roof rack comes with stainless steel rear roller to make loading easier, faster – while avoiding damage to the van body. The side rails keep cargo in place. The modular system also includes the stainless steel tube carrier for rooftop transport of elongated objects.
TRANSIT LADDER RACK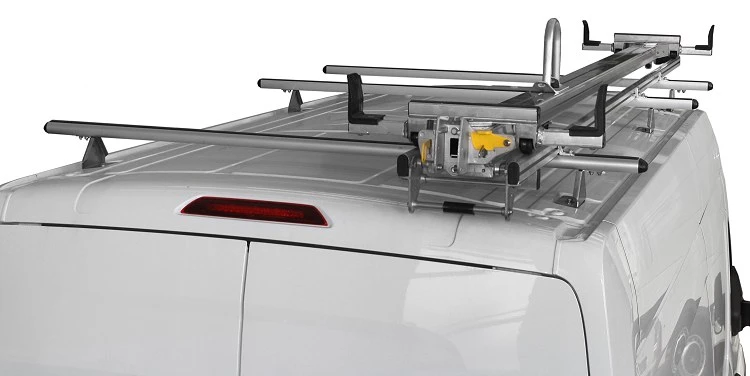 Both the hydraulic assisted version and the up-and-over model are available in all of our Syncro centers.
Discover Transit racking solutions, 
floor panels, and liners. Take a look at this Transit conversion with protective floor and wall paneling, and loading ramp.